South Carolina Primary News; Mike Adams on Chemo Dangers; Pepe Escobar on Iranian War Tensions; Marjorie Farabee Tries to Stop Wild Donkey Killings & More
Infowars Nightly News
PrisonPlanet.tv
January 20, 2012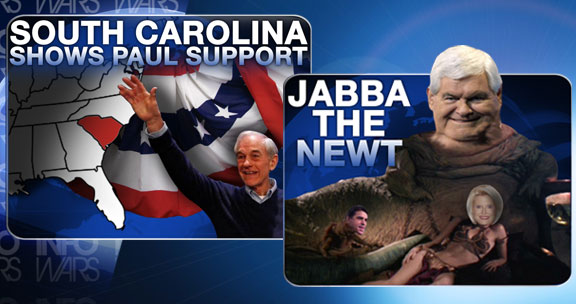 Tonight, on this Friday, January 20, 2012 edition of the Infowars Nightly News:
• Guest Mike Adams of NaturalNews.com will discuss breakthrough research that suggests chemotherapy can be more dangerous than helpful, as findings show it can multiply the chances of tumors and the presence of cancer in patients.
• Asia Times reporter and geopolitical expert Pepe Escobar also joins the program to discuss the latest on the brewing war against Iran, and other tension in the Mid East region.
• Marjorie Farabee also appears on the program to discuss her Wild Burro Protection League and its efforts to stop the wanton killing of donkeys being killed at Big Bend Ranch National Park under environmental pretenses. She delivered more than 100,000 signatures to the Texas Capitol in a petition aimed at defending the animals.
• In the news segment, guest host Rob Dew covers the coming age of cyborgs, as living brains have now been implanted with electronic chips to replace 'faulty'– i.e. mortal– parts. Scientists hope it will signal the cures for degenerative diseases like Parkinson's, but is it the beginning of the end for humanity as we know it? Other efforts have long ago been launched to push chipping humans with RFID chips for the purpose of tracking and tracing the population under a high-tech control grid.
• Even as proponents of a free Internet have made efforts this week to block draconian legislation to control the web under the guise of protecting copyright, the Supreme Court has ruled that many works already in the public domain can again be put under copyright. This is a threat to the public's free speech rights and the ability to share alike in the creative works of artists who are in many cases already deceased.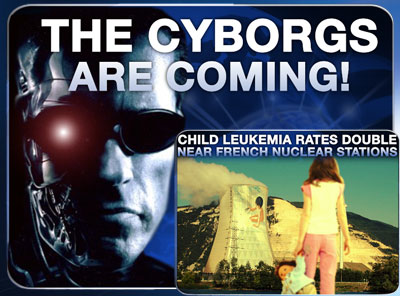 • Tragically, a French research team has discovered that leukemia rates among children double for those living in close proximity to nuclear power plants. Their finding have been published in the International Journal of Cancer, and draw attention to the future of nuclear, even as the global fallout over the Fukushima meltdown continues to threaten lives, particularly among vulnerable newborns.
• Ahead of the South Carolina primary taking place tomorrow (Saturday), four conservative State Senators in South Carolina have come forward to endorse Ron Paul in what continues to be a movement back towards liberty– much more than just a campaign for elected office. Initial results in a Newsday poll show that Ron Paul overwhelmingly won the South Carolina debate hosted by CNN, even as the media focused in on Newt's reaction to scandals in his personal life.
Is Gingrich's support base really out there, or just a figment of the corporate media's imagination? Newt Gingrich still leads in many polls for the South Carolina primary, but how? Yet another Gingrich campaign event was canceled due to poor attendance. The AP reported that the candidate stepped down from a speaking engagement with the Southern Republican Leadership.
——
The INFOWARS NIGHTLY NEWS airs weekdays at 7 PM Central for at PrisonPlanet.tv. Consider supporting our broadcast and join PrisonPlanet.tv to enjoy all the benefits, including first access to the Nightly News, Alex's Live 3 hour radio program, countless special reports and much more. Or, try a 15-day trial and see for yourself.
The Emergency Election Sale is now live! Get 30% to 60% off our most popular products today!