Tom Coghlan
TheTimes.co.uk
December 1, 2013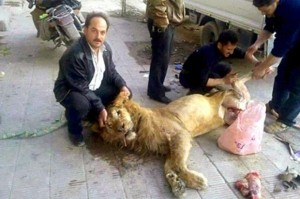 STARVING Syrian rebels besieged in the suburbs of the capital Damascus signalled their desperation yesterday by killing and eating a zoo's lion.
Pictures of men butchering the visibly emaciated animal, said to have been taken from the Al-Qarya al-Shama Zoo, were widely disseminated on websites sympathetic to the rebels, although their authenticity could not be verified.
The Syrian army's siege of the eastern Ghouta districts of the city has lasted more than six months. Residents have reported acute food shortages and hardship with the onset of winter. The area was one of those in Damascus attacked with chemical weapons in August.
Fight against the globalists with one of nature's greatest essentials. Survival Shield X-2 is now back in stock at 60% off!