Aaron Marks
Gothamist.com
November 9, 2012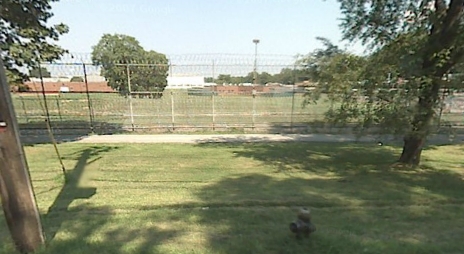 Google street map view of Arthur Kill Correctional Facility from Arthur Kill Road.
With a death count in the twenties and its homes left decimated, Staten Island is just beginning the long haul of recovery from Hurricane Sandy. Now local and state officials are considering an unlikely location to house displaced residents: Prison.
Southern Staten Island's Arthur Kill Correctional Facility, a medium-security prison, was closed last year as part of Governor Cuomo's prison-closing program. With capacity to house and feed 900 displaced Staten Islanders, the facility would help a large portion of the 5,200 borough residents who have applied for FEMA housing.
Not everyone is jumping at the chance to check for a stay at the Big House. "I lost everything, but I still have my pride. We don't have to stay in a prison," said Wally Martinez, a displaced resident, to the Post. But the prison "shouldn't be taken off the table because of a quote unquote stigma," said Councilman James Oddo. "Between being cold and having people dry, in a warm, secure place, I know what my choice is."
The Reopen America Back to School Special is now live! Save up to 60% on our most popular items!