Infowars.com
March 8, 2013
Responding to a frantic call at a San Antonio high school Friday, police apprehended a 16-year-old student after a teacher accused him of daydreaming about guns.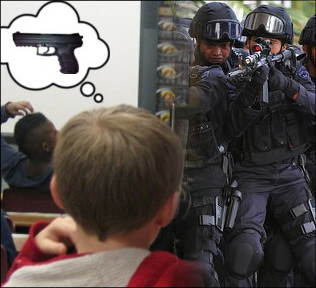 "All morning he had been staring ahead and blinking every six seconds like the average person," an Algebra teacher at John Jake High School reportedly stated. "Then, at precisely 9:02 AM, he began staring off into space. He didn't appear to be paying any attention to the lesson."
"We were learning about the sum of functions, but when I looked over at him, from the look he had, I just knew. He was thinking about guns."
After witnessing the boy's expression, the teacher stepped out of class and flagged a janitor who informed the principal of the situation.
SWAT arrived at the west San Antonio high school at around 9:45 AM and appeared nervous as they promptly wrestled the suspect to the ground, arresting him without further incident.
"We decided to handcuff him right off the bat," a responding officer, who wanted to remain anonymous, claimed. "We simply couldn't afford to take any chances."
Alisha McTwinter, 15, a fellow classmate, recalled the sheer terror of that moment. "It was horrifying. I haven't been able to stop crying all day. What kind of world is this where a kid can just think about whatever he wants whenever he wants?"
Police said when they arrested the student, he was "playing stupid," repeatedly asking, "What the hell is going on? Is this a joke?" in attempts to appear innocent.
"I felt it put the other students, not to mention myself, at risk," his teacher told news crews, still visibly shaken.
Schools in the area were put on lock-down until it could be confirmed that nobody else was even remotely thinking about guns. "Everyone's lockers were searched and they went up and down the halls with dogs," said one student in the middle of being frisked by two burly S.A.P.D. officers.
Parents, faculty and students alike were shocked after learning just how close their lives had come to being put in a very dangerous situation.
"What it comes down to is parents just not doing their damn jobs," an irate Judy Walker, mother of 15-year-old John Jake student Isaiah Walker, stated. "We need to get our heads out of our you-know-whats and work harder as parents to stop this type of dangerous thinking before it starts."
The school says this is the first time they've ever had to summon authorities since implementing their new CRIMESTOP lesson plan, which teaches the "faculty of stopping short, as though by instinct, at the threshold of any dangerous thought."
Asked to elaborate on the innovative procedure, one San Antonio school district principal pointed to a passage from George Orwell's novel 1984. "It's remarkably similar to the concept Orwell put forth in his novel; in fact, some might say we took a page right out of his book."
The principal excitedly continued, "Our CRIMESTOP lesson plan teaches 'the power of not grasping analogies, of failing to perceive logical errors, of misunderstanding the simplest arguments… and of being bored or repelled by any train of thought which is capable of leading in a heretical direction. CRIMESTOP, in short, means protective stupidity.' It's just what our modern society needs."
"Precrime is the wave of the future," Steve Doobin, CEO of SmarterestTec, the organization behind CRIMESTOP commented as he stroked a white cat perched on the arm of his leather desk chair. "I mean, why wait for crime to happen? That's just dumb. Wouldn't it be so much better to stop crime before it even has a chance to start?"
The student will face charges of reckless endangerment and will be suspended for the rest of his sophomore school year pending the outcome of an investigation.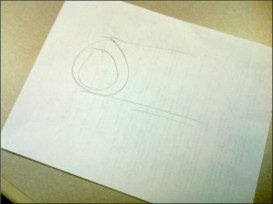 Elsewhere in Texas, a 15-year-old student was detained and questioned for hours after drawing what her art teacher claims appeared to be the muzzle of a gun.
"I just drew two or three concentric circles and some lines," said the student, arguing she was "just doodling" in defense of her artwork. "The teacher walked up behind me and freaked out. He grabbed my paper and showed it to everyone in the class yelling for them to get down under their desks. I was so scared. I might never draw again."
CRIMESTOP may have come just in time. Stories all across the nation have cropped up proving American students are virtually obsessed with guns and will likely kill us all in mass school shootings.
Melissa Melton and Adan Salazar contributed to this report.
—————————————————————-
Editor's note: Unfortunately this satire piece is not so far from the truth. Read the articles below to see how close we are to living in an Orwellian nightmare.
Related: School Now Offering Counseling to Kids Upset by Strawberry-tart Gun! – http://www.infowars.com/school-now-offering-counseling-to-kids-upset-by-strawberry-tart-gun/
Related: Cupcake Plastic Army Figures Declared "Insensitive" by School – http://www.infowars.com/cupcake-plastic-army-figures-declared-insensitive-by-school/
Related: Red Spotlights to Mark 'Precrime' Suspects – http://www.infowars.com/red-spotlights-to-mark-precrime-suspects/
Related: School Will Not Back Down Over Five-Year-Old Girl's Bubble Gun "Terroristic Threat" – http://www.infowars.com/school-will-not-back-down-over-five-year-old-girls-bubble-gun-terroristic-threat/
Related: Bill & Melinda Gates Foundation funding research into bracelets that track mental, emotional responses – http://www.infowars.com/bill-melinda-gates-foundation-funding-research-into-bracelets-that-track-mental-emotional-responses/
Related: Police Deploy 'Minority Report' Style Robot Drones In Standoff With Ohio Man – http://www.infowars.com/police-deploy-minority-report-style-robot-drones-in-standoff-with-ohio-man/
Last month, radio talk show host Alex Jones caused panic after attending a meeting wielding a semi-automatic bubble gun.

Remember, it's not a matter of IF you'll need storable food, but WHEN!