Dominic Evans and Khaled Yacoub Oweis
Reuters
July 21, 2012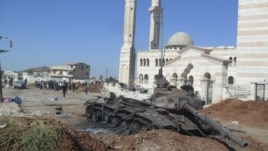 VOA News: A burned tank belonging to government forces is seen in Azzaz, Aleppo province, Syria July 19, 2012.
Syrian soldiers and armored troops pushed into a rebel-held district of Aleppo on Saturday after striking back in Damascus against fighters emboldened by a bomb attack against President Bashar al-Assad's inner circle.
Activists in Aleppo, Syria's biggest city and a northern commercial hub, said hundreds of families were fleeing residential districts after the military swept into the Saladin district, which had been in rebel hands for two days.
Fighting was also reported in the densely-populated, poor neighborhood of al-Sakhour.
The Emergency Election Sale is now live! Get 30% to 60% off our most popular products today!