Kurt Nimmo
Infowars.com
March 29, 2012
The web is abuzz today with a story about a drone that will deliver tacos. "The Tacocopter — an unmanned drone helicopter that gives customers tacos on demand — would without a doubt be wildly popular were it to exist throughout the nation," reports KSL.com.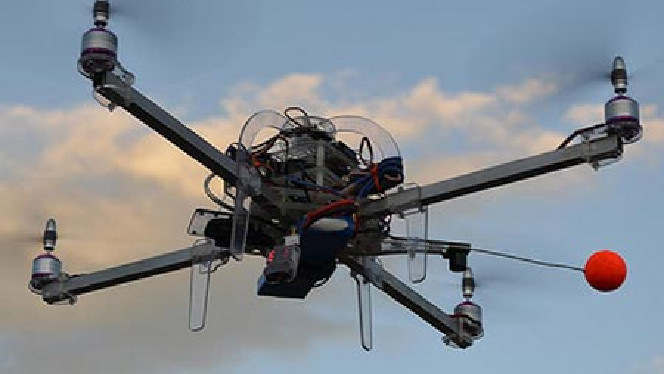 "Taco-hungry Americans could order and pay for tacos on their smartphones, which would supply GPS coordinates to the drone. Once ordered, the tacos would be delivered as long as the customer remained in the ordering location."
According to KSL.com reporter Stephanie Grimes, the drone taco delivery idea is grounded due to Federal Aviation Administration regulations stating that "unmanned aerial vehicles" cannot be used for commercial purposes. "There are other minor problems with the project, such as its ability to navigate dangerous terrain or to keep the food it carries warm," she writes.
The Pentagon, however, is leaning on the FAA to open U.S. airspace to its robotic aircraft. According to the LA Times, the Pentagon wants to shift drones currently being used in Afghanistan and Pakistan to military bases in the U.S. "and use them for many purposes."
"The stuff from Afghanistan is going to come back," Steve Pennington, the Air Force's director of ranges, bases and airspace, said at a conference about robotic technology held in Washington, D.C. The Department of Defense "doesn't want a segregated environment. We want a fully integrated environment," he said.
Police departments around the country are now beginning to roll out the unmanned aircraft. "Drones, the remote-controlled aircraft used in combat zones, are now hovering over some U.S. cities as police enlist them to get a bird's-eye view of crime scenes and accidents at relatively low expense," the Wall Street Journal reported in December.
Is it possible the TacoCopter is a Pentagon psyop designed to acclimate the American people to the prospect of an aerial component of the government's emerging high-tech panopticon?
In 2010, the Pentagon clarified its doctrine on "psychological operations." According to Secrecy News, the the DoD doctrine states:
…there is a "requirement that US PSYOP forces will not target US citizens at any time, in any location globally, or under any circumstances." Yet in a near contradiction, the doctrine also states that "When authorized, PSYOP forces may be used domestically to assist lead federal agencies during disaster relief and crisis management by informing the domestic population." Perhaps the PSYOP forces are supposed to inform the domestic population without "targeting" them.
The introduction of military drones in the U.S. is being sold precisely under this pretext. "Unmanned aircraft can help us meet a number of challenges, from spotting wildfires to assessing natural disasters," U.S. Transportation Secretary Ray LaHood said earlier this month as the government began to push modification of FAA regulations.
The TacoCopter, at least on the surface, appears to be a prank. A Whois search of the domain name tacocopter.com reveals that it is registered to Star Simpson, who has an MIT email address.
A Star Simpson from MIT made the news briefly in 2007 when she was stopped at Logan Airport in Boston for carrying a fake bomb.
"I'm an inventor, artist, engineer, and student, I love to build things and I love crazy ideas," she told WCVB TV in Boston. "Simpson, a native of Lahaina, Hawaii, said she is currently studying computers and how they work. For play, she wrote that she works at a student-run machine shop at the MIT Electronic Research Society," the news website added.
It's no secret, however, that many American universities are connected at the hip to the Pentagon. "MIT has a particularly strong connection to the Pentagon, which earned it the dubious distinction of being called 'the Pentagon on the Charles' by students protesting the Vietnam War," notes Global Day of Action on Military Spending, an antiwar website.
Also, Ultra 12 is back by popular demand! Get the ultimate source of energy at 40% off now!