Mikael Thalen
Infowars.com
April 15, 2013
After wandering away from a Montana veterans home, 77-year-old Korean War Veteran Stanley L. Downen, who suffered from severe Alzheimer's, fell and hit his face on the pavement after being tasered by police, resulting in his death three weeks later, according to a lawsuit filed by Downen's granddaughter.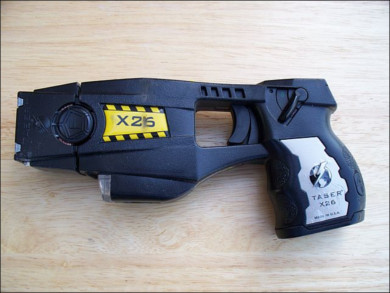 Downen's granddaughter, Tamara Downen, alleges that staff from the veterans home called and told her that Downen fell while running and was taken to the hospital. It wasn't until two days later that she discovered her grandfather had been tasered by police.
Downen, who was put in the government-run veterans home in May of last year due to his progressing dementia, walked off the grounds the following day. Staff allegedly "agitated and escalated the situation" while attempting to bring him back to the home.
According to the lawsuit, Columbia Falls police soon arrived after the home staff were unable to take control of the situation and tasered Downen. Downen then struck his head, resulting in multiple abrasions to the forehead and hands as well as a large swelling abrasion on the scalp and left eye. According to the complaint, Downen was found face down handcuffed when an ambulance arrived on scene.
That is when staff allegedly called the Downen family and lied claiming he had fallen while running. Downen died three weeks later in the hospital. Tamara Downen filed suit soon after alleging assault and battery on the part of the Columbia Falls Police Department as well as wrongful death and negligence from the Montana Department of Public Health and Human Services and the Montana Veterans Home.
According to the Helena Independent Record, the DPHHS and the city of Columbia Falls have not yet been served with the suit and refused to comment on the situation.
Although some would argue in support of tasers as a necessary device that has stabilized many volatile situations from escalating, others feel police misuse and abuse of the device are increasing.
According to a report from Amnesty International, over 500 people in the United States have died from police tasers since 2001.
TASER International originally claimed that their stun guns were safe and caused no adverse effects to the heart but quietly changed their training manuals to include warnings about firing at a suspects' chest, explaining that there's an "extremely low" risk of ill effects on the heart.
"It's really critically important that law officers understand that this TASER is a weapon and it can kill people," said Dr. Kathy Magliato, heart surgeon and president of the American Heart Association for greater Los Angeles.
Dr. Magilato spoke out after the 2012 case of a 50-year-old Los Angeles woman who went into cardiac arrest temporarily after being tasered by police, causing brain damage. It was only after CPR was given that the woman was revived.
Despite the danger of tasers becoming more evident, The Washington Times uncovered that a senior official with the Department of Homeland Security was considering purchasing so-called "safety bracelets" and forcing American travelers to wear them while flying. The bracelets would not only track the user's location but administer an incapacitating Electro-Muscular Disruption (EMD), or shock, capable of completely immobilizing the user for several minutes.
Although likely that Downen's death was related to his fall as well as the shock, the larger question remains over whether police accountability or restrictions will be put in place as incidents of taser misuse continue to be reported.
Other incidents of extreme overreaction and police abuse with tasers like Downen's have been seen across the country. Last year, A Chicago woman who was 8-months pregnant was tasered by police over a parking violation. Police in New Mexico tasered a 10-year-old boy after he allegedly refused to wash an officer's patrol car. A 50-year-old Texas man who was having a seizure was tasered by police, causing a heart attack and permanent brain damage.
Tamara Downen's attorney also declined to comment on the ongoing litigation.
Mikael Thalen's article first appeared at Examiner.com.
Be sure to give your body the powerful multivitamin formula it needs with Vitamin Mineral Fusion now at 40% off!