Labels Obama a "monster in the White House"
Infowars.com
Oct. 9, 2013
"The government is so out of control," legendary rocker Ted Nugent told the AP in an interview Monday. "It is so bloated and infested with fraud and deceit and corruption and abuse of power."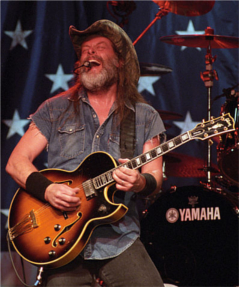 In preparation for the debut of his live CD and DVD set Ultralive Ballisticrock, set to be released Oct. 22, Nugent is conducting interviews and throwing his two cents in about Obama's role as president and his overall disappointment with the American public.
Labeling Obama a "monster in the White House," who "wouldn't qualify to drive my tour bus," the 65-year-old Motor City guitarist and staunch Second Amendment advocate didn't hold back his feelings toward the federal government.
"The American government today will go down and the American people, it breaks my heart to say… will go down as the dumbest, most unappreciative society in the history of humankind," he stated.
This of course isn't the first time the conservative constitutionalist has gone after Obama.
After a National Rifle Association convention in April 2012, Nugent was targeted by the Secret Service for making comments saying he would be "dead or in jail by this time next year" if Obama was re-elected. He also encouraged voters to metaphorically "chop [Democrats'] heads off in November," and accused Obama of running a "vile, evil, America-hating administration."
In the run up to the 2012 elections, the Cat Scratch Fever songwriter again made national headlines with yet another rant directed at the commander-in-chief, this time saying Obama represented "everything bad about humanity."
Obama-bashing aside, Nugent also commented on how he's been "blessed with just unbelievable energy," which has enabled him to tackle life on the road for more than 25 years, and likened the sensation he gets on-stage to an out-of-body experience: "When I'm onstage, it really is out of body – it really is untouchable," he relayed. "That Motor City throttle is purely driven and conveyed via the music. … Time stands still – just at extreme velocity."
Back in July, the legendary guitarist and NRA member joined Alex to explain how self-defense and community action was vindicated by the Zimmerman verdict.