Dave Bohon
New American
March 1, 2013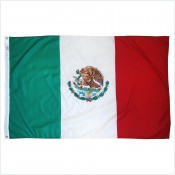 A Texas high-school student is suing her local school district after she was punished for refusing to stand and recite Mexico's pledge of allegiance as part of a Spanish class assignment. The lawsuit charges that the McAllen Independent School District violated 15-year-old Brenda Brindson's constitutional guarantees when her Spanish teacher required her to recite the Mexican pledge and sing its national anthem, and gave her a failing grade when she refused.
In the fall of 2011, Brindson entered McAllen's Achieve Early College High School with the goal of doing well in her classes. But problems developed immediately after the high-school sophomore "refused to stand up, extend her arms straight out with palms down, and recite the Mexican Pledge of Allegiance and sing the Mexican National Anthem," explained the Thomas More Law Center (TMLC), which is representing Brindson in the lawsuit.
The activity was part of what the school's Spanish teacher, Reyna Santos, required of all her Spanish level 3 students in order to pass the class. But when the time came for the students to pay homage to their neighboring country to the south, Brindson remained seated. It's not that the young lady has any problem with Mexico or its people. After all, while she was born in the United States, her mother is a Mexican immigrant. "Brenda is fluent in Spanish and English and is proud of her Mexican heritage," related the TMLC, "but she is a true blooded American. So to Brenda, the words of the pledge have a deep meaning. Her conscience and patriotism would not allow her to participate in the assignment."
By the way, Infowars' most powerful product is back in stock! Get DNA Force Plus up to 50% off now!