Taylor Berman
Gawker.com
November 5, 2012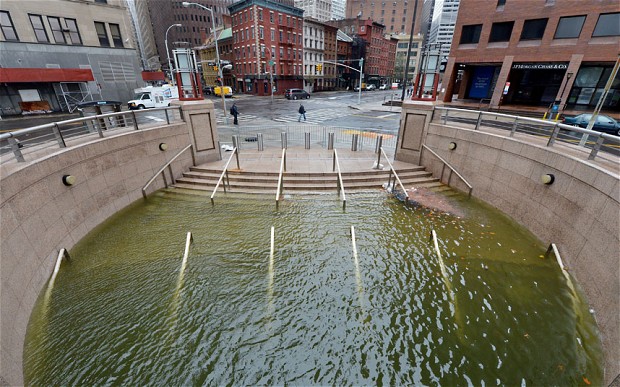 On a day in which many New York City residents and visitors rallied to help areas ravaged by Hurricane Sandy, news emerged that the National September 11 Memorial and Museum at the World Trade Center is flooded with at least five feet of water. The museum, which is still not completed, houses some of the more important artifacts from the 9/11 attacks, including the last column standing from the towers, the famous cross-shaped steel beam, and one of the tower's stairways.
Those items are located on the museum's main floor, which, somewhat counter-intuitively, sits 68-feet below the memorial plaza. As the New York Times reports, the memorial's planners acknowledged the museum was constructed in a 100-year flood plain, which means the land has a 1 percent chance of flooding every year. Naturally (or not), the site has been through two "100 year floods" in the past 14 months, first with Hurricane Irene and again last week with Hurricane Sandy.
It seems worth noting here that the memorial cost at least $700 million to build; perhaps some of that could have gone to more comprehensive flood prevention?
The Emergency Election Sale is now live! Get 30% to 60% off our most popular products today!