Infowars.com
May 7, 2014
Michelle Obama has tweeted an image with the hashtag #BringBackOurGirls.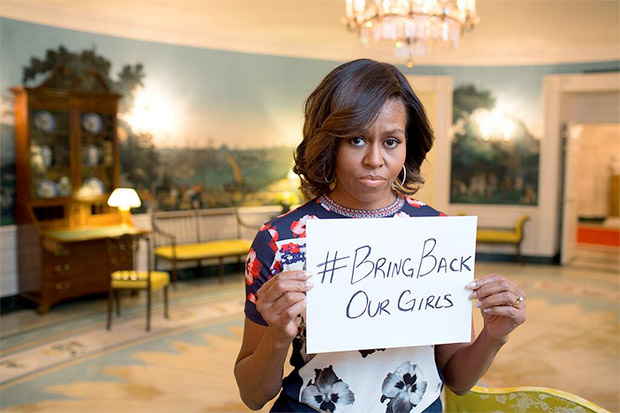 Ramaa Mosley, a mother of two from Los Angeles, started the campaign after the African terrorist group Boko Haram abducted around 300 Nigerian school girls.
"I started weeping and I raced home," Mosley told ABC News. "I looked on the Internet and I found some news in Africa that confirmed it, but couldn't find anything else in the United States." She thought about flying to Chibok, Nigeria, but instead took to Twitter.
"I started shouting it to Barack Obama, my senators in California, to any celebrity that I could think of," she said, "and within a few hours, I started getting responses."
A page posted by Ramaa Mosley suggesting urgent calls to presidents, senators, congressmen, prime ministers, etc., has received nearly 70,000 likes on Facebook.
Mosely's campaign is certainly admirable. It is also bias and politically correct.
No such campaign was launched when the same Salafist group stormed a boarding school at the Nigerian government college of Buni Yadi, a secondary school in Yobe state in the country's northeast, and slaughtered 29 boys. No girls were harmed during the attack.
The massacre of 200 villagers last week when the terrorists razed an entire village also did not result in a Twitter campaign.
If liberals were truly humanitarian and not driven by the mindless dictates of feminism and political correctness, they would hashtag #SaveOurKids instead of merely #BringBackOurGirls.
In addition to touchy-feely political correctness, the campaign will undoubtedly be exploited the same way the campaign against the African warlord Joseph Kony was hijacked as cover to send more troops to resource rich Africa.
Sending troops marked "the first time that US military aircraft have been assigned to Uganda in order to help search for Kony, who is wanted by the International Criminal Court for war crimes. Under Obama's orders, at least four CV-22 Osprey aircraft are scheduled to arrive in the country by the middle of the week, alongside a contingent of 150 Air Force Special Operations troops, pilots, and maintenance forces," RT reported in March.