David Barstow and Alejandra Xanic von Bertrab
NY Times
December 18, 2012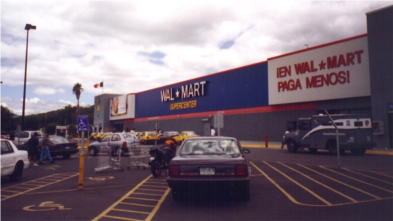 Photo taken by tomf688 in August 1999, via
Wikimedia Commons
[…] The secret [of an altered zoning map] held even after a former Wal-Mart de Mexico lawyer contacted Wal-Mart executives in Bentonville, Ark., and told them how Wal-Mart de Mexico routinely resorted to bribery, citing the altered map as but one example. His detailed account — he had been in charge of getting building permits throughout Mexico — raised alarms at the highest levels of Wal-Mart and prompted an internal investigation.
But as The New York Times revealed in April, Wal-Mart's leaders shut down the investigation in 2006. They did so even though their investigators had found a wealth of evidence supporting the lawyer's allegations. The decision meant authorities were not notified. It also meant basic questions about the nature, extent and impact of Wal-Mart de Mexico's conduct were never asked, much less answered.
The Times has now picked up where Wal-Mart's internal investigation was cut off, traveling to dozens of towns and cities in Mexico, gathering tens of thousands of documents related to Wal-Mart de Mexico permits, and interviewing scores of government officials and Wal-Mart employees, including 15 hours of interviews with the former lawyer, Sergio Cicero Zapata.
The Times's examination reveals that Wal-Mart de Mexico was not the reluctant victim of a corrupt culture that insisted on bribes as the cost of doing business. Nor did it pay bribes merely to speed up routine approvals. Rather, Wal-Mart de Mexico was an aggressive and creative corrupter, offering large payoffs to get what the law otherwise prohibited. It used bribes to subvert democratic governance — public votes, open debates, transparent procedures. It used bribes to circumvent regulatory safeguards that protect Mexican citizens from unsafe construction. It used bribes to outflank rivals.