Joe Mozingo and Wesley Lowery
Los Angeles Times
December 27, 2012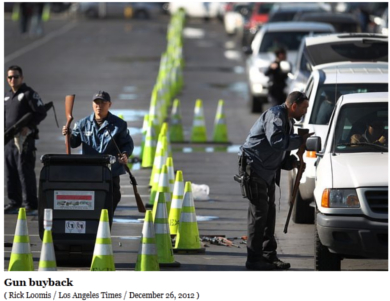 Screen Capture taken from
LATimes.com
Mall parking lots were packed with after-Christmas shoppers. But nowhere were the lines longer than at the Los Angeles Memorial Sports Arena and the Van Nuys Masonic Temple, where thousands of people came to exchange their guns for Ralphs gift cards.
Cars queued up for blocks at the drive-through events, with the city giving cards worth up to $100 for handguns, shotguns and rifles, and up to $200 for assault weapons. There was a bit of haggling involved, but the guns were all taken.
"What do you got?" an officer in Van Nuys asked a man in his late twenties as he pulled up in a green Mazda.
"Just one handgun, I've had it since high school," the man replied.
"Will you take $50 for this?"
"Sure."
Pick up the next evolution of activated nascent iodine today with Survival Shield X-3 now at 60% off!