Kurt Nimmo
Infowars.com
March 6, 2013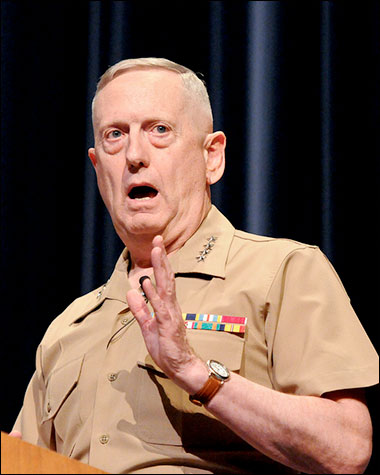 General James Mattis, the top commander of U.S. Forces in the Middle East, told the Senate Armed Services Committee on Tuesday punitive sanctions may yet convince Iran to end its nuclear program.
But short of Iran abandoning the program – which is legal under the rules of the Treaty on the Non-Proliferation of Nuclear Weapons – an attack on the Islamic nation is a viable and increasingly possible option for the West.
"Between economic sanctions, diplomatic isolation, and encouragement of behavior that does not cost them such a degree of political support that they end up losing power, there may yet be a way to bring them to their senses," said Mattis.
Senator Lindsey Graham, a Republican senator from South Carolina who formulated a resolution calling for a green light to attack Iran in response to its illusory nuclear weapons program, asked Mattis if it is possible for the United States and Israel to "bring them to their knees."
"Yes sir," the general replied. "There are a number of means to do that, perhaps even short of open conflict. But certainly that's one of the options I have to have prepared for the President."
Mattis' remarks parallel similar ones made by Obama's new Secretary of State, John Kerry. "Lines have been drawn before and they've been passed," Kerry said on Tuesday. "That's why the president has been so definitive this time. This is a very challenging moment with great risks and stakes for everybody because the region will be far less stable and far more threatened if Iran were to have a nuclear weapon."
Kerry recently attended a meeting held in Kazakhstan between the so-called P5+1 and Iranian officials where Iran's nuclear program was discussed. During high-level session, the Secretary of State issued a veiled threat to the Iranians.
"There is a finite amount of time," Kerry explained during a meeting with Saudi counterpart Prince Saud al-Faisal. Harsh sanctions and diplomatic efforts "cannot go on forever," he said.
"We can't be like the philosophers who keep talking about how many angels a pinhead can hold," said the prince, expressing his lack of confidence in the meetings and the increasingly stringent effort to dissuade the Iranian nuclear program the U.S. and Israel insist will produce nuclear weapons despite a lack of evidence.
U.S. intelligence agencies do not believe that Iran is developing nuclear weapons. According to a highly classified intelligence assessment produced in early 2011, Iran abandoned efforts to develop and build a nuclear warhead in 2003. Israeli intelligence and leaders of the Israeli military, as well as the International Atomic Energy Agency, have said Iran does not have a nuclear weapon, is not building one and has not made the decision of whether or not to build a nuclear weapon in the future.
Moreover, in March of 2012, former U.S. officials said Iran does not have secret uranium-enrichment sites.
The State Department has worked to undercut any progress made at the P5+1 talks in Kazakhstan. Vice president Joe Biden, appearing before the annual AIPAC meeting in Washington earlier this week, ignored modest progress achieved at the meetings and declared Obama is "not bluffing" about a military attack on Iran.
In addition to escalated rhetoric and stepped up threats of military attack, the United States is pushing for increased monitoring of Iran's nuclear program. On Wednesday, a senior U.S. envoy accused Iran of "deception, defiance and delay" in addressing international accusations that the country is developing a nuclear weapon.
Joseph Macmanus, the lead U.S. delegate to the International Atomic Energy Agency, said the United States may demand the IAEA be permitted to inspect Parcin, a facility the agency claims was used to test explosive triggers for a nuclear weapon.
However, according to Gareth Porter of the IPS news service, the document leaked to the Times of London making the claim is a forgery. Former CIA official Philip Giraldi said the document did not contain security markings or identification of either the issuing organization or the recipient.
Establishment media stories on the alleged nuclear trigger do not mention the possibility that the document is a forgery.