Infowars.com
June 5, 2012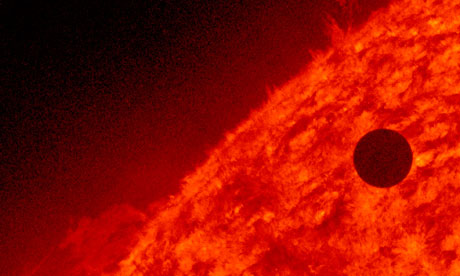 From Wikipedia:
The 2012 transit of Venus, when the planet Venus will appear as a small, dark disk moving across the face of the Sun, began at 22:09 UTC on 5 June 2012, and will finish at 04:49 UTC on 6 June.[1] Depending on the position of the observer, the exact times can vary by up to ±7 minutes. Transits of Venus are among the rarest of predictable celestial phenomena and occur in pairs eight years apart:[2] the previous transit having been in June 2004, the next pair of transits will not occur until December 2117 and December 2125.
Visibility – The entire transit will be visible from the western Pacific Ocean, northwesternmost North America, northeastern Asia, Japan, the Philippines, eastern Australia, New Zealand, and high Arctic locations including northernmost Scandinavia, and Greenland.[3] In North America, the Caribbean, and northwestern South America, the beginning of the transit will be visible on 5 June until sunset. From sunrise on 6 June, the end of the transit will be visible from South Asia, the Middle East, east Africa and most of Europe. It will not be visible from most of South America or western Africa.
From the London Guardian:
One reason that observations of the 18th century transits came out so well was that a French astronomer, Joseph-Nicolas Delisle, produced a map of where the transit could be viewed. The map enabled astronomers to make a plan. It gave the expeditions an organizing principle.
It turned out that the phenomenon would be entirely invisible to people living in certain areas; if the sun is not up where you live at the time of the transit, you won't catch it. >>>Read full article
The Reopen America Back to School Special is now live! Earn double Patriot Points on our hottest items!