Defense says footage of confrontation proves officers responded appropriately
Adan Salazar
Infowars.com
December 2, 2013
More than two years after the fateful incident that ended the life of Kelly Thomas, a Fullerton, Calif. homeless man who suffered from schizophrenia, two of the cops caught on tape beating him to a bloody pulp are finally having their day in court.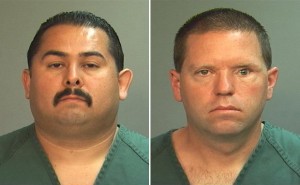 The trial starts today for former 10-year Fullerton Police Department veteran Manuel Ramos, who faces 15 years in prison if convicted of second degree murder for instigating the fray that ultimately led to Thomas' death, a sentence that could be reduced if he's convicted of a lesser charge.
Accomplice Cpl. Jay Cicinelli, a former marine, is charged with involuntary manslaughter and use of excessive force for his role in helping Ramos subdue Thomas.
In July 2011, Ramos and Cicinelli were videotaped confronting Thomas, who was seemingly minding his own business at the time, and badgering him to reveal the contents of his backpack.
The grainy street-cam footage showed Ramos forcing the unlawful backpack search under the guise of wanting to get on with his day. "We just gotta figure out your name so we can get outta here and go about our business, that's all," Ramos told Kelly.
A minute and 55 seconds into the above video, Officer Ramos can be heard muttering obscenities to Thomas while putting on latex gloves: "Now, you see my fists? … They're getting ready to f— you up … If you don't start f—— listening."
Sensing danger, Thomas attempted to flee, but officers caught him and mercilessly began hammering him with a billy club and the butt of a Taser.
Thomas' screams and cries for help went unheeded as even more officers arrived, dog piling on him, in addition to Tazering him senseless.
Near the end of the gruesome video, the glare of ambulance lights can be seen reflecting off a pool of what appears to be Thomas' blood. He died in the hospital five days later after being taken off life support.
"Ramos has pleaded not guilty to second-degree murder and involuntary manslaughter. Cicinelli has pleaded not guilty to involuntary manslaughter and use of excessive force," reports CBS Los Angeles.
As we highlighted back in May of last year, had a surveillance camera not caught the action live as it went down, the cops may have gotten away with saying Kelly attacked them.
As reported, the officers' lawyer last year attempted to argue that doctors at St. Jude's hospital, where Thomas was taken, were ultimately responsible for his death, even though a chief trauma surgeon testified that doctors "did everything right," and even though photos showed Thomas' face was blue, bloodied and bruised beyond recognition.
In a surprising twist, the defense says the gut-wrenching video, which surfaced last year and in which Thomas can be heard gasping for air and calling for help from his father, will actually exonerate the officers and show they responded appropriately.
"We're going to put the video in context of the entire evening, and two decades that preceded it," Ramos' lawyer John Barnett told NBC4. "I think when we do that the video will show no crimes were committed by police officers that night."
Officer Ramos is the first officer in Orange County history to be formally accused of murder. Thomas' father said the trial could stretch into January.
In January, a third officer, Joseph Wolfe, will be tried for his participation in the execution of the unarmed homeless man.
The Reopen America Back to School Special is now live! Save up to 60% on our most popular items!