Residents of a New York neighborhood are scratching their heads over an arson attack that targeted a statue supporting Republican candidate Donald Trump.
Staten Island resident Sam Pirozzolo had a 12-foot, custom-made capital letter "T" emblazoned with the American flag displayed on the front lawn of his Castleton Corners property as a show of his support for the GOP nominee.
Early Sunday morning, the sign was reportedly set ablaze by an unknown arsonist.
"I jump out of bed, I come down here, and I come downstairs, and I can see this big orange glow," Pirozzolo told CBS New York.
The fire marshall is still investigating the cause of the fire, but Pirozzolo as well as his attorney believe a Trump hater is responsible.
Pirozzolo told CBS he fears other members of his community could be targeted for exercising their First Amendment rights.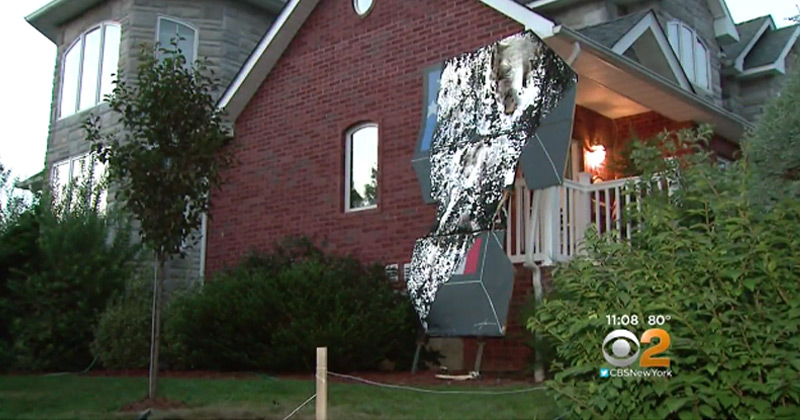 "You ignored my rights, you trampled my civil right, you're trampling my property, and you're setting fire to my personal property," Pirozzolo said of the unknown culprits.
The homeowner's attorney, Richard Luthman, says they will press charges if the offender is caught.
"A lot of civil harm has been done to him, and if we can find out who the perpetrators involved were, we could actually bring a civil case against them," Richard Luthman said.
Pirozzolo says the attack has only reinvigorated his support for Trump, and that he will work with the artist to produce another even bigger sign for his front lawn.
Castleton Corners is coincidentally the same Staten Island neighborhood where a Black Lives Matter-supporting hipster was caught two weeks ago tearing down blue ribbons intended to show community support for police.
We are in the FINAL HOURS of our 4th of July Super Sale! Get double Patriot Points and free shipping on the hottest items!