Lawmaker wants it to go to build airport rest places for military members
Infowars.com
November 30, 2013
The government agency charged with making sure every airplane passenger undergoes an invasive security screening keeps your change when it finds it, so much so that they've racked up about $1 million in the past two years, according to a TSA report.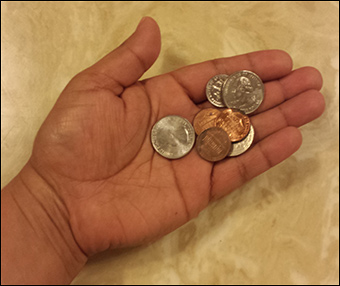 Each year, agency workers look forward to the holidays when more travelers come through airports and inevitably leave behind a couple cents. This loose change adds up, the report said, to more than $500,000 each of the past two fiscal years.
The agency then takes the money and invests it in additional "aviation security projects." "However as of March 1, 2013, TSA only expended $6,539 for the purpose of civil aviation security," a House Report found.
Since March, a Republican lawmaker has
been proposing a better way to spend it.
A bill sponsored by Rep. Jeff Miller (R – Fla.), and co-sponsored by 43 others, calls for the Assistant Director of the DHS to "transfer unclaimed money re-covered at airport security checkpoints to nonprofit organizations that provide places of rest and recuperation at airports for members of the Armed Forces and their families, and for other purposes."
"The bill was approved last week and is under review by the House of Representatives," the Daily Mail wrote.
"The TSA has been keeping the pennies, nickels, dimes, and quarters from your change purse to pay for their bloated bureaucracy," Miller said, according to Fox News. "If TSA representatives get to play 'finders keepers' with your hard-earned cash, what's the incentive to try to get the loose change to its rightful owners?"
The Congressional Budget Office had tagged previous versions of the bill with a $1 million price estimate in order to re-appropriate recovered change, which Miller said aggravated him.
"I was pretty aggravated that they said it was going to cost money to give money away," Miller said, reported Bloomberg Businessweek.
Newer versions of the bill cost less as they would not retroactively affect the TSA's past hauls.
Using the money to provide for enlistees and their families would definitely make more sense than wasting it on further security theater, especially in light of recent revelations from engineer Jon Corbett's federal court case in which the TSA's own Administrative Record was found to contain various admissions that currently "it is aware of no one who is currently plotting a terror attack against our aviation system using explosives."
Bloomberg published a list of the amount of change left at U.S. airports:
Miami: $39,613
Las Vegas: $26,900
Chicago O'Hare: $22,115
Los Angeles International: $21,916
New York-JFK: $21,201
Dallas-Fort Worth: $21,090
San Francisco: $19,873
Boston: $16,405
Houston-Intercontinental: $16,000
Washington-Dulles: $16,000
Phoenix-Sky Harbor: $10,492
Atlantic City: $350.56
Guam: $1.70