Adan Salazar
Infowars.com
October 25, 2012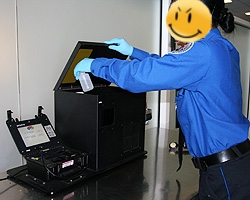 A FOIA request filed by ABC News revealed statistics on TSA worker thefts and has facilitated a list of U.S. airports arranged according to the number of employees that were fired due to thefts.
The list arrives just in time for the holidays, when the nation's airports are set to be the busiest, and 16 out of the 20 busiest airports top the list.
ABC News published the list of the major airports where theft-related firings were most prevalent, as seen below. The number in parentheses reflects the number of fired workers.
1. Miami International Airport (29)
2. JFK International Airport (27)
3. Los Angeles International Airport (24)
4. Hartsfield-Jackson Atlanta International Airport (17)
5. Las Vegas-McCarren International Airport (15)
6. Dallas/Fort Worth International Airport and New York-Laguardia Airport (14 each)
8. Newark Liberty, Philadelphia International, and Seattle-Tacoma International airports (12 each)
11. Orlando International Airport (11)
12. Houston-George Bush Intercontinental Airport and Salt Lake City International Airport (10 each)
14. Washington Dulles International Airport (9)
15. Detroit Metro Airport and Louis Armstrong New Orleans International Airport (7)
17. Boston-Logan International, Denver International and San Diego International airports (6)
20. Chicago O'Hare International Airport (5)
The revealed data comes on the heels of an undercover sting investigation conducted by ABC news in which they purposely left an Ipad behind at the Orlando International Airport screening terminal with hopes it would be stolen; and it was.
Two weeks later, with the help of a tracker app, ABC News was able to trace the Ipad back to the home of a TSA worker, who repeatedly denied that he was in possession of the stolen goods. The investigator then set off the tracker device's alarm feature, forcing the TSA worker to produce the stolen Ipad from within his home.
A subsequent investigation and sting operation conducted at the nation's ten busiest airports found no wrongdoing, and in fact showed the TSA followed proper procedures in terms of contacting passengers concerning their lost goods.
The federal agency has an annual budget of $8.1 billion dollars, however, screeners are among the lowest paid federal workers. The agency told ABC that a majority of its workers are honest, hard-working individuals, but we are constantly bombarded with unbelievable stories regarding their sub-human treatment of passengers.
This month alone, we've been subjected to a deluge of TSA horror stories, such as a dying woman being forced to remove her bandages and having her IV bag full of saline solution broken in full public view, a TSA worker caught stealing $500 from travelers as retaliation for complaining, TSA confiscating cameras and deleting footage, an FBI employee coming forward with a TSA molestation claim, a frequent flyer recounting how the TSA smacked his testicles and more.
In addition, we've exposed a bizarre new drink-testing policy witnessed at the Columbus Ohio Airport last month where TSA agents walked around the airport's departure lounge testing passengers' drinks even though they had been purchased beyond the initial security checkpoint, and an additional, but equally ludicrous, "policy" where TSA agents barked "freeze" commands to innocent travelers playing out a weird kind of subservience drill.
While the TSA defends their workers as "honest, hard-working individuals," the fact remains that screeners often take it upon themselves to steal, lie, and dish out punishment and retribution for passengers who attempt to stand up for their rights.
The Fourth Amendment is supposed to protect us against unreasonable searches and seizures, and until the TSA is properly trained to uphold the rights of each individual passenger, the problem will never cease.
So if you're thinking of flying this season, you may want to pack your expensive items lightly.
Infowars is launching the national Opt Out and Film Week during Thanksgiving, November 19-26. Click here for more details or click here for the campaign's Facebook page.