Man swears he thought 15-year-olds were 16
Adan Salazar
Infowars.com
May 12, 2014
A TSA screening supervisor at JFK airport didn't do the agency's already sordid reputation any favors when he was arrested last week on charges he flew to the Dominican Republic to have sex with underage girls.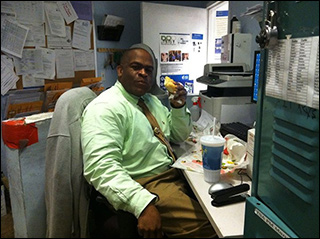 On Friday, federal agents placed 48-year-old Vernon Lythcott in custody at the New York airport, blocking him from hopping on another flight to the Caribbean country.
A DHS agent stationed in the D.R. began investigating rumors that an American tourist was flying in to meet underage girls. The investigator then interviewed the girls in question, both of which were 15, who both confirmed their liaisons with Lythcott.
Investigators also found photos of the girls on Lythcott's phone, at which point he admitted to flying to the D.R. at least 45 other times for the same purpose; however, he insisted every other time the girls he met were over 18. He also claimed he believed the two girls in question were 16, "which is still illegal," notes New York Daily News.
"The victims also reported that during the course of that night they had used Vernon Lythcott's cellular telephone to check their Facebook accounts and had also 'friended' Lythcott on Facebook," DHS Special Agent Karine Stewart said in a statement.
Lythcott was earning a salary of $59K a year, but is now suspended without pay and faces potential job termination. He posted a $250,000 bail and was released on conditions he not go near child-oriented locations. Neither the TSA, nor Lythcott's lawyer responded to the New York Post's or the Daily News' request for comment.
Lythcott's tale is only the latest devastating blow to the behemoth federal agency, which was recently accused by Virginia Senator Mark Warner of doing worse background checks than the fast-food industry. The agency has established a reputation for making headlines, not for nabbing terrorists, but for its agents' various misdeeds, which range anywhere from ripping off airline passengers to perusing child pornography.
"In October, it was reported that an Amarillo, Texas, woman filed a lawsuit against the federal government after TSA agents allegedly humiliated her by publicly exposing her breasts during an 'extended search' at an airport in Corpus Christi," Infowars reported in 2011. "The suit also claims that other TSA employees continued to joke and laugh about the incident for an extended period of time."
Last year, we also reported on activist Ashley Jessica's taped run-in with the federal agency's groping grasp, where she underwent an invasive pat down in which she had her breasts and genitals fondled.
In 2012, we also covered the TSA's hiring of a Catholic priest, stationed at the Philadelphia International Airport, who had been "removed from ministry because it found he sexually abused two young girls," according to CBS affiliate KYW-TV.
The innumerable instances in which TSA agents have been caught engaged in illegal activity since the agency's inception in 2001 could fill several volumes, but don't expect any immediate kind of scaling back of the federal agency's budget, tax-payer funded to the tune of $7 BILLION per year, even though the agency has tacitly admitted that terror attacks are a remote prospect at best.
Watch Infowars' 'We Will Resist TSA & NSA Tyranny contest' winning entry, "Dick Johnson: TSA Wunderkind!" for an optimal parody depiction of what type of predilections the TSA looks for in new hires.