Adan Salazar
Infowars.com
February 13, 2013
One of the world's top cellists had his rare and precious bow damaged after Transportation Security Administration workers at the airport in Chicago brutally and carelessly probed his cello case.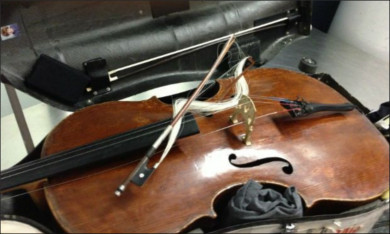 World renowned cellist Alban Gerhardt, a German musician who has performed with the Berlin and London Philharmonic Orchestras respectively, was traveling through Chicago's O'Hare International Airport on his way to a performance in Madison, Wisconsin when he discovered that his bow had been damaged.
"My bow must have moved out of its cover," Gerhardt stated in an interview, adding, "and instead of putting it back in, they just slammed the case shut and broke the bow that way over the bridge."
The rare bow, made by 19th-century German bow maker Heinrich Knopf and possibly damaged beyond repair, was reportedly snapped in half and held an estimated value of $20,000.
TSA spokeswoman Lisa Farbstein, in an email, stated that "it truly is a shame about Mr. Gerhardt's bow" and recommended filing a claim as soon as possible "so that the airport might be able to retrieve any potential videotape of his case being opened."
Gerhardt, who has been lauded as "undoubtedly one of the most brilliant cellists of his generation," called the damage his bow sustained "an act of brutal and careless behavior," and said he will have a luthier in Berlin attempt to fix it, "although the odds of repair appear to be slight," according to WQXR.
"The incident occurred on 6 February, Gerhardt was due to perform Prokofiev's Symphony–Concerto with the Madison Symphony Orchestra in Madison, Wisconsin," reported The Strad magazine. Gerhardt borrowed a colleague's bow for his concerts in Madison.
In a world where terrorists may hide in anything from peanut butter jars to cakes to drinks and even "in your wife's brassiere," to borrow a phrase from Alex Jones, it's good to know that TSA is on high alert searching the inside of cello cases, strip searching 88-year-old women (and inspecting their colostomy bags), and "randomly" selecting wheelchair bound children for special screening all in alleged efforts to keep us safe.
At least I feel a lot safer. Don't you?
Here's a video of Alban Gerhardt performing Johann Sebastian Bach's Suite for Cello in D Major, No. 6 BWV 1012:

Save 60% on all of our hottest products during our Across the Board Flash Sale!