Come one, come all! The Democrats are tripping over themselves in the run-up to the 2020 election, each competing for a chance to be defeated by President Donald Trump.
FULL SHOW: Kamala Harris Feasts on Biden in Clown World Debate Night 2

Joe Biden's camp is "freaking out" over his poor debate performance after he was savaged by Kamala Harris.
Wednesday, June 25:
Go to ClownWorld.us at 7pm Central for complete coverage.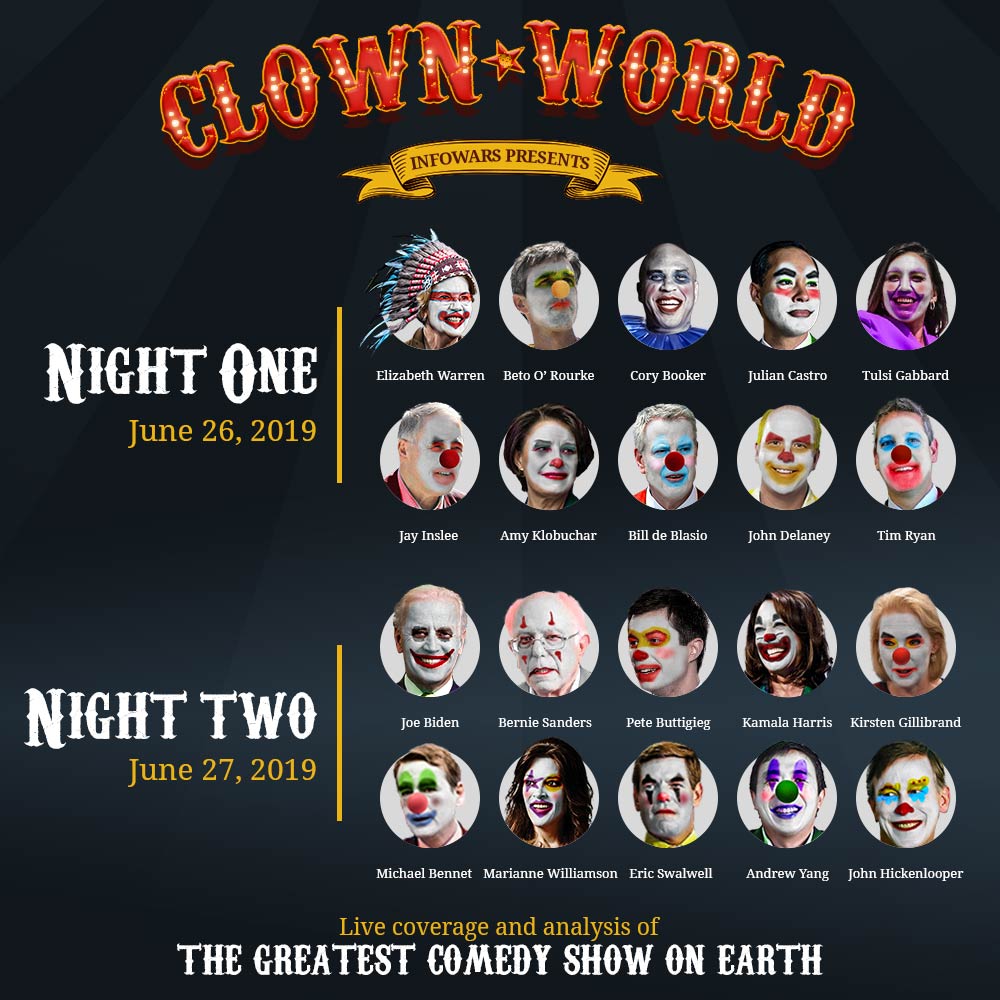 This time around, over 20 Dem candidates are eager to face-off with the man spearheading America's recovery.
Elizabeth "Pocahontas" Warren, Beto O'Rourke, Booker, Minn. Sen. Amy Klobuchar, Washington Gov. Jay Inslee, former HUD Secretary Julián Castro, Hawaii Rep. Tulsi Gabbard, New York City Mayor Bill de Blasio, Ohio Rep. Tim Ryan and former Maryland Rep. John Delaney will kick off the festivities Wednesday night from a debate stage in Miami, Florida, at the Adrienne Arsht Center for the Performing Arts.
The following night, Thursday, June 27, will feature former Vice President Joe Biden, Vermont Sen. Bernie Sanders; California Sen. Kamala Harris; South Bend, Ind., Mayor Pete Buttigieg; New York Sen. Kirsten Gillibrand; Colorado Sen. Michael Bennet; former Colorado Gov. John Hickenlooper; California Rep. Eric Swalwell; entrepreneur Andrew Yang and self-help author Marianne Williamson.
Bookmark this page or tune in to infowars.com/show as we host LIVE coverage of the debates starting at 7 p.m. Central Wednesday. You don't want to miss it! Honk, Honk!
RELATED: LIVE CLOWN WORLD FOOTAGE: INFOWARS HITS THE STREETS OF MIAMI
---
Greg Reese & Savanah Hernandez talk about their thoughts on night one of the Democratic debates.
Infowars' Savanah Hernandez headed to Miami, Florida to get a live look at the Democratic debates this week.
Prior to the debates, Hernandez talked with locals about who they think the front-runner is in the Democrat field and how badly they think Trump will lose.
Lefto The Clown Announces Infowars Coverage Of The Democrat Presidential Debates

Lefto The Clown announces the Infowars Live Coverage of the Democratic candidate clown show on June 26th & 27th. Watch the stream at http://infowars.com/show.
Be sure to order your limited edition Clown World T-shirt!
The Reopen America Back to School Special is now live! Save up to 60% on our most popular items!