A Turkish newspaper has placed an ad at Istanbul's main airport saying that travellers to Sweden could be raped.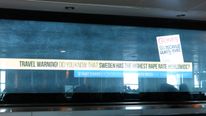 Pro-government daily Gunes placed the stark warning on two billboards at Ataturk Airport's International Terminal.
The ad read in Turkish and English: "Travel Warning! Did you know that Sweden has the highest rape rate worldwide?"
Viyana'daki aynı havalimanından yeni bir provokasyon; "Türkiye 15 yaş altı çocuklarla cinsel ilişkiye izin veriyor" pic.twitter.com/qZSsMuUoRu

— İsmail Türk (@ismiloo) August 13, 2016
It appears to be a tit-for-tat over a headline this month at an Austrian airport and a subsequent tweet by a Swedish government official.
Stockholm's foreign minister posted that Turkey should respect child rights after a news ticker at the Vienna airport said: "Turkey allows sex with children under the age of 15".
We are in the FINAL HOURS of our 4th of July Super Sale! Get double Patriot Points and free shipping on the hottest items!