LA Times
December 25, 2012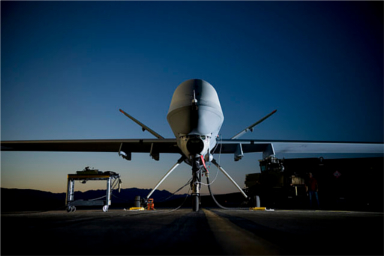 The U.S. drone flew over a cluster of mud houses on a ridge and, according to Yemeni officials, locked onto Adnan Qadhi, a mercurial man of many guises, including radical militant, peace mediator, preacher of violence and army general.
Villagers said Qadhi climbed out of his utility vehicle the night of Nov. 7 to make a cellphone call shortly before the missile struck. His photo — broad face peering from beneath a tilted red beret, stars on his epaulets — now hangs in a small grocery store in a land where farmers work narrow fields below the villas of politicians, tribal leaders and a former president that rise like fortresses on nearby hilltops.
Some here call him a martyr, others a fanatic. But the life and death of Qadhi, a senior officer in the 1st Armored Division who preached holy war in mosques and donned government-issued fatigues, epitomizes the political instability, tribal intrigue, crisscrossing allegiances and radical Islamist passions the United States must sort out when targeting militants in Yemen. At times, Washington risks being drawn into internal conflicts and becoming increasingly despised in the Arab world's poorest nation.