Sure, consumers are concerned about eating glyphosate. Wouldn't you be? If 75% of air and rain samples tested contain glyphosate, it is highly likely that the 'probable' human carcinogen is also in our food supply. Now that the World Health Organization is calling a spade a spade, it appears the US Food and Drug Administration is forced to start testing food for glyphosate. [1]
The American public has been practically begging the agency to stop using the people as guinea pigs with a likely carcinogen. But only after the US Government Accountability Office (GAO) rebuked the FDA for failing to conduct assessments and failing to disclose risks to the public is the agency actually going to do something about it…or will it?
This is the very same agency which approved GMO salmon, initially without a label, and declared the GMO fish just as safe as non-GMO varieties.
The GAO says that it found multiple areas of fault in the FDA's pesticide residue testing program, specifically citing a failure to test for glyphosate.
John Neumann, a spokesman for the GAO FDA report said:
"Maybe we shamed them into it." [2]
FDA spokeswoman Lauren Sucher said the FDA will test for glyphosate for the first time in the agency's history, though the agency declined to comment on the GAO's report.
Foods that will likely be tested include:
Soybeans
Corn
Milk
Eggs
Other potential foods
We all know what the FDA should find. The question is – what is it going to do when glyphosate has been found to contaminate almost every single crop in the United States?
Even the USDA's research shows a steady incline in the use of glyphosate over the past several decades. What exactly does the FDA think it will find different? That somehow all that poison sprayed on our crops just magically disappeared from the food that is also grown there?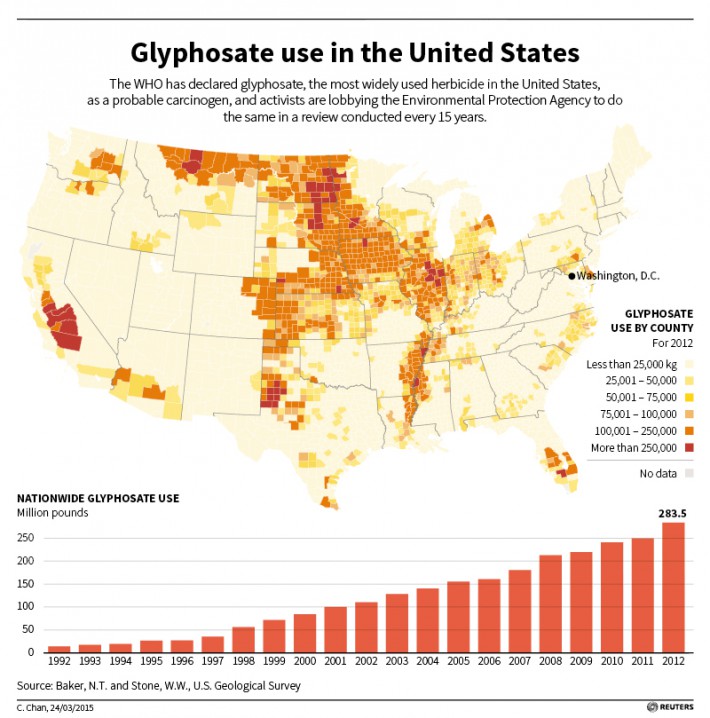 As reported by CivilEats, Monsanto had this to say about the possibility of the FDA testing on glyphosate residues:
"While FDA hasn't officially confirmed to us that they plan to move forward with residue testing, glyphosate's 40-year history of safe use has been upheld by the U.S. EPA and regulators around the world following decades of study and review. No data have ever indicated residue levels of more than a fraction of EPA's very conservative Allowable Daily Intake or any level of concern.

If FDA does move forward with additional testing in a scientifically rigorous manner, we are confident it will reaffirm the long-standing safety profile of this vital tool used safely and effectively by farmers, landowners and homeowners around the world." [2]
This article originally appeared at Natural Society.
The Reopen America Back to School Special is now live! Earn double Patriot Points on our hottest items!