Helen Pidd
The Guardian
July 11, 2013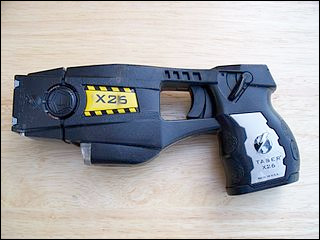 A man who died after being tasered by police in Manchester has been named locally as 23-year-old factory worker Jordan Begley. He is said to have suffered a "medical episode" and died after police fired at him with the stun gun.
Officers responded to reports of a disturbance at about 8.15pm on Wednesday in Gorton, east Manchester, and used the Taser while detaining the man. The police force referred the case to the Independent Police Complaints Commission.
Begley was described by his boss as "a very good lad" who had been saving up to move out of his mother's house. Paul Sivori, of Sivori's ice cream factory, said Begley had been working full-time at the plant for at least three years, both in the depot, which supplies a fleet of ice cream vans, and in the factory shop.