Adan Salazar
Infowars.com
October 17, 2012
You thought you'd heard it all when we reported on Houston PD's assassination of a wheelchair-bound, schizophrenic, double-amputee armed with a pen; however, details on this latest police state fiasco are equally as shocking.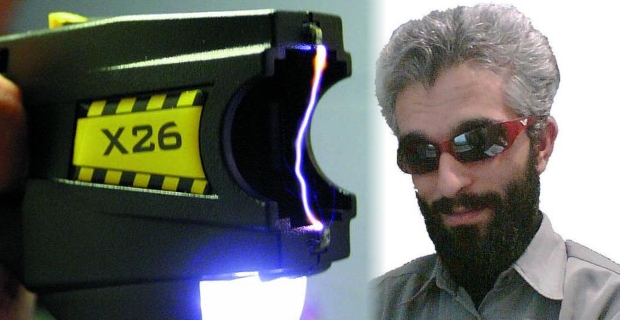 According to several reports, UK police Tasered a 61-year-old blind man from Lancashire, England after misidentifying him as a suspect reportedly walking down the street with a samurai sword.
The Chorley Guardian reports that last Friday, as Colin Farmer, 61, made his way to a pub to meet some friends, he was approached by police, who, instead of identifying themselves, chose to blast Farmer with a 50,000-volt stun gun.
Of course, the kicker is the "samurai sword" was actually Farmer's cane.
The man, who says the experience has left him "shaking like a leaf and scared to go outside," is a two-time stroke victim and feared he would go into a third stroke during the unwarranted electrical onslaught.
Farmer gave the Chorley Guardian the gruesome details of his encounter, as the entire time he believed he was being mugged by a group of thugs:

"I didn't even know the police were there," said Mr Farmer, a Fellow of the Institute of Directors for 20 years.

"I heard this man shouting. I thought they were shouting at some people.

"I certainly didn't know they were police – and I certainly didn't know they were shouting at me.

"I thought I was going to be attacked by some hooligans. The next thing they fire a taser at me, though I didn't know it was a taser at the time.

"I just felt this thump in my back. As soon as the Taser hit me I hit the ground.

"I hit my head on the floor, then this policeman came around. I said 'I'm blind, I'm blind. I'm blind'.

"This policeman knelt on me and dragged my arms round my back and handcuffed me so tight I've had bruises since.

"I said you're hurting me, I'm blind – and there's no way he could not have seen my stick on the floor.

"I walk at a snail's pace. They could have walked past me, driven past me in the van, or said 'drop your weapon.'

"It's a sad excuse. They wouldn't even stop when I said I'm blind.

"I was absolutely terrified. I thought any second I'm going to have another stroke and this one will kill me."
He also told the Daily Mail, "I thought that I was honestly going to die and they were going to kill me. All my muscles turned to dust and I thought I was having another stroke."
The incident prompted an investigation by Lancashire Constabulary. Today, the Lancashire Police Chief Superintendent released a public apology on the police department's website, stating:
"On Friday evening we received a number of reports that a man was walking through Chorley armed with a samurai sword. A description of the offender was circulated to officers and patrols were sent to look for the man.

[…] Lancashire Constabulary deeply regrets what has happened. We have clearly put this man through a traumatic experience and we are extremely sorry for that. Officers have remained in contact with him and his family over the past few days to enquire about his recovery and we will continue to keep in touch with him and keep him informed of our inquiry."
Farmer doesn't believe the police's version of events: "In your wildest dreams, you couldn't mistake me for having a Samurai sword…I didn't just drop down in a helicopter. I'd walked a few hundred yards. They must have seen me."
According to Sky News, Mr. Farmer is seeking legal recourse against the police department.
The AP wrote that Lancashire police later arrested a suspect "in connection with the sword reports."