Soviet-designed tanks from a museum and civilian contractors played invading Russians in a simulated attack on NATO member Estonia staged on UK's Salisbury Plain, British tabloids reported, claiming it was "as close as possible" to reality in "every detail."
The drill pitted the British Army against "Russians invading Estonia," The Sun and the Mail on Sunday reported, citing Army sources and featuring photos from the event.
Chilling images show Russian tanks invading British countryside as troops prepare for… https://t.co/9XQWhVv5Ug

— RLS RUSSIAN NEWS (@RLSRUSSIANNEWS) December 4, 2016
Playing the part of the "invaders," were "Gurkhas and civilians found using a recruitment agency" – a move motivated by cuts in the Army, the reports said. The "enemies" were wearing "distinctive blue uniforms and were equipped with AK-47 semi-automatic rifles, which Putin's troops carry."
The AK-47 is an outdated weapon designed shortly after World War II. While the Russian military has millions of them stockpiled for a potential all-out war, the Defense Ministry stopped buying AK-47s in 2011. The default assault rifle is currently the AK-74, while elite troops have more advanced specialized weapons.
Army of Russian tanks rolls onto British soil in chillingly realistic wartime exercise https://t.co/dEYsaHQX3n pic.twitter.com/cfhJtgFKbk

— Daily Mail U.K. (@DailyMailUK) December 4, 2016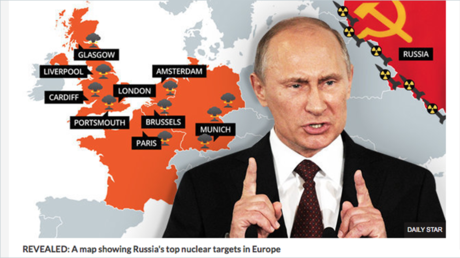 British tabloids go into WWIII frenzy over reported pull-out of Russian officials' relatives
"As well as the Polish-built T-72 there were three other Soviet-design tanks, supplied by a private collector and the Tank Museum," the report added.
The report accurately portrays the T-72 as a tank that the Russian military could theoretically use in a conflict, since models belonging to this family comprise most of the main battle tank fleet in Russia. The Polish version is called PT-91 Twardy and is derived from the T-72M1, the 1982 version of the Soviet-designed tank.
However, the older tank models remaining in service in Russia are in long-time storage while most of the 2,700 or so vehicles used for trainings are T-90A, T-80U, T-80BV and T-72B. The more advanced models were developed in the 2000s.
The UK tabloids say the British troops overwhelmed "Putin's army"with "missile strikes from Apache helicopter gunships and bursts of fire from Warrior armored fighting vehicles," throwing back the "invaders" despite presumably being "within range of thousands of Russian troops and nuclear-capable missiles at Kaliningrad on the Baltic Sea."
We are now accepting pre-orders for our healthy and delicious storable food. Stock up today!