Uncle of Tsarnaev brothers allegedly worked for USAID and company linked to Halliburton
Kurt Nimmo
Infowars.com
April 25, 2013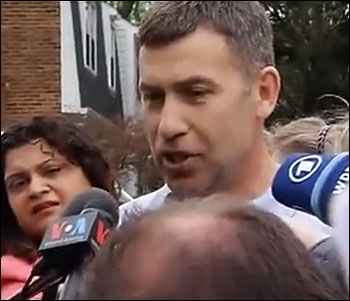 Following Zubeidat Tsarnaev's claim that her son, Tamerlan Tsarnaev, was set-up by the FBI, her brother-in-law, Ruslan Tsarni, was rolled out to engage in damage control and save the official narrative on the Boston bombings.
Tsarni called his nephews "losers" and insisted that because the brothers had failed to integrate themselves in the United States they were consumed with hatred.
The establishment media immediately spotlighted "Uncle Ruslan," as they affectionately called him, and attempted to bury or at least minimize the impact of Zubeidat Tsarnaev's claim that her sons are patsies.
"Tsarni's own emotions have taken a roller-coaster of guilt and anger, he said in an interview, fueled by the family's failure to recognize that Tamerlan's interest in Islam over the past six years may have crossed into violent radicalism," Bloomberg reported on Wednesday.
Uncle Ruslan, however, isn't merely a concerned relative. It is said he not only worked for the U.S. Agency for International Development (USAID) in the former Soviet Republic of Kazakhstan, but also did time with Big Sky Energy Corp., a gas and oil corporation with ties to Cheney's Halliburton, a Pentagon contractor in bed with the CIA.
As we noted on Wednesday, USAID is an agency used by the U.S. government to operate "humanitarian" NGOs instrumental in running color revolutions in former Soviet states. It collaborates with the Freedom House, the CIA front the National Endowment for Democracy, Soros Foundations, and the CIA's Ford Foundation to undermine governments in the former Soviet Union, now the Russian Federation.
Also, support your body by getting all the vitamins and minerals you need with the Ultra 12 and Vitamin Mineral Fusion Combo Pack now at 50% off!