Daniel Halper
Weekly Standard
November 23, 2012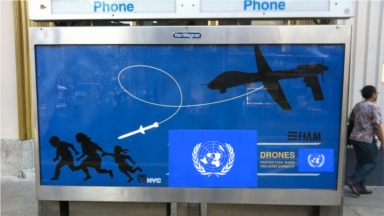 New York drone art done by artist Essam originally featured NYPD logos and markings as part of a project designed to bring awareness to the NYPD's future drone use.
The U.N. wants to use drones, the French news agency Agence France-Presse reports. "The United Nations wants to use drones for the first time to monitor fighting in the eastern Democratic Republic of Congo, where Rwanda has been accused of aiding rebels," says the report, quoting U.N. officials.
The international body "is considering a range of ways to strengthen the capabilities of MONUSCO to protect civilians from the threat of armed groups in the vast area of eastern DR Congo," a U.N. spokesman says.
"Unarmed aerial vehicles, drones for monitoring the movements of armed groups, are one tool we are considering."