Ray McGovern and Elizabeth Murray
Consortium News
January 1, 2012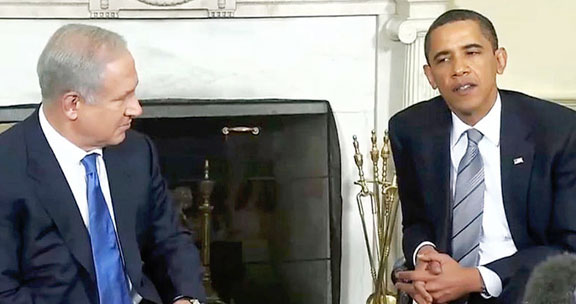 President Obama needs to put an abrupt halt to the game of Persian Roulette about to spin out of control in the Persian Gulf. If we were still on active duty at the CIA, this is what we would tell him:
This informal memorandum addresses the escalating game of chicken playing out in the waters off Iran and the more general issue of what can be done to put the exaggerated threat from Iran in some kind of perspective.
Israeli Prime Minister Benjamin Netanyahu meeting with President Barack Obama at the White House in 2009
In keeping with the informality of this memo and our ethos of speaking truth to power, we may at times be rather blunt. If we bring you up short, consider it a measure of the seriousness with which we view the unfolding of yet another tragic mistake.
The stakes are quite high, and as former intelligence analysts with no axes to grind, we want to make sure you understand how fragile and volatile the situation in the Gulf has become.
We know you are briefed regularly on the play by play, and we will not attempt to replicate that. Your repeated use of the bromide that "everything is on the table," however, gives us pause and makes us wonder whether you and your advisers fully recognize the implications, if hostilities with Iran spin out of control.
You have the power to stop the madness, and we give you some recommendations on how to lessen the likelihood of a war that would be to the advantage of no one but the arms merchants.
If your advisers have persuaded you that hostilities with Iran would bring benefit to Israel, they are badly mistaken. In our view, war with Iran is just as likely in the longer term to bring the destruction of Israel, as well as vast areas of Iran — not even to mention the disastrous consequences for the world economy, of which you must be aware.
Incendiary (but false) claims about how near Iran is to having a nuclear weapon are coming "fast and furious," (and are as irresponsible as that ill-fated project of giving weapons to Mexican drug dealers).
In our view, the endless string of such claims now threaten to migrate from rhetoric to armed clashes to attempted "regime change," as was the case nine years ago on Iraq. You know, we hope, that influential — but myopic — forces abound who are willing to take great risk because they believe such events would redound to the benefit of Israel. We make reference, of course, to the reckless Likud government in Israel and its equally reckless single-issue supporters here at home.
Inept Advisers
Judging by recent performance, your foreign policy and military advisers, including the top generals now in place, appear unable to act as sensible counterweights to those who think that, by beginning hostilities with Iran, they will help Israel do away with a key regional rival.
You are not stuck with such advisers. You're the President; you deserve better. You need some people close to you who know a lot more about the outside world.
You may wish to think also about how the recent remarks of Joint Chiefs of Staff Chairman Martin Dempsey, during an interview with the Washington Post's Greg Jaffe, reflect on the chairman's acumen in the strategic matters in which he has been immersed for decades.
In the interview with Jaffe, Dempsey referred to his 20-year involvement with Iraq (where he made his mark) and, according to Jaffe, Dempsey acknowledged that "he and his Army did not fully understand the nature of the conflict they were fighting."
The Emergency Election Sale is now live! Get 30% to 60% off our most popular products today!