Press TV
April 26, 2013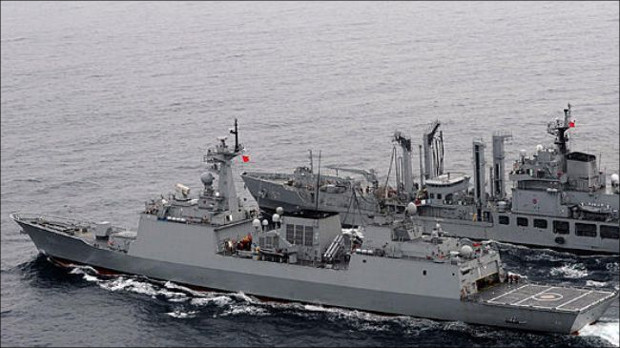 The United States and South Korea are conducting joint naval exercises near the South Korean port city of Pohang, amid tension on the Korean Peninsula.
The drills are being held on Friday as part of their annual Foal Eagle exercises that kicked off on March 1 and are to last until April 30.
According to the United States Forces Korea (USFK) website "The naval exercise aims to improve logistics interoperability, communication and cooperation between the United States and South Korea."
The Korean Peninsula has been locked in a cycle of escalating military rhetoric following the participation of nuclear-capable US B-52 and B-2 stealth bombers in the joint drills with South Korea.
Pyongyang has said its military should be prepared to attack "all US military bases in the Asia-Pacific region, including the US mainland, Hawaii, and Guam."
Meanwhile, Pyongyang has rejected Seoul's call for formal talks about reopening the Kaesong joint industrial complex.
South Korea's Unification Minister, Ryoo Kihl-jae, has said the country will withdraw all its remaining workers from the complex in order to protect their safety.
South Korea has threatened its neighbor with "grave measures" if Pyongyang turns down its offer of talks.
"If North Korea rejects our proposal… we have no choice but to take significant measures," South Korean Unification Ministry Spokesman Kim Hyung-seok said.
By the way, people who know what's coming are taking advantage of our healthy & delicious storable food!