Press TV
March 2, 2011
The USS Kearsarge and the Ponce, two US amphibious assault ships, have entered the Suez Canal on their way to Libya as Libyan ruler Muammar Gaddafi continues his harsh crackdown on anti-government protesters, a canal official says.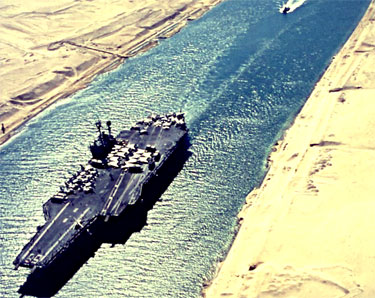 The two US warships with hundreds of Marines on board headed towards Libya on Tuesday and entered Egypt's Suez Canal on Wednesday, Reuters reported.
The ships were at the southern mouth of the canal, the official said, adding that they were expected to pass through by 3:30 p.m. or 4:00 p.m. local time.
Earlier on Tuesday, US Defense Secretary Robert Gates said the USS Kearsarge, an amphibious ship capable of carrying up to 2,000 Marines, and the USS Ponce assault ship will be passing through the Mediterranean shortly.
According to top US military officials, the Kearsarge warship is carrying 400 Marines from the United States.
The US, along with Britain and France, has also sent hundreds of Special Forces to Libya's east. The forces are setting up bases in the cities of Benghazi and Tobruk.
The move comes against the backdrop of heated discussions over the possibility of imposing a no-fly zone on Libya, and a NATO-backed military intervention.
The US Senate on Tuesday unanimously passed a resolution urging the world to consider imposing a no-fly zone over Libya and condemning Gaddafi's bloody crackdown on Libyan civilians.
Lawmakers approved the measure, which "applauds" demonstrators demanding democratic reforms and "strongly condemns" Gaddafi's response.
The symbolic resolution calls on Gaddafi "to desist from further violence, recognize the Libyan people's demand for democratic change, resign his position and permit a peaceful transition to democracy."
Gaddafi's bloody repression of anti-government protesters have claimed the lives of thousands of people over the past 16 days as the death toll is expected to rise as Gaddafi continues his bloody crackdown against the opposition.