"..I feel like we're making Weber County Schools the safest schools in Utah"
Adan Salazar
Infowars.com
April 23, 2014
A Utah sheriff wants teachers in his county to be prepared in the unlikely event of a mass shooter, but instead of holding useless shelter in place drills, he's offering training for educators who wish to learn how to responsibly carry concealed weapons in the classroom.
"Really it's not if, but when," says Weber County Sheriff Terry Thompson, referring to the spate of shootings that have recently rocked America. Thompson maintains that "[i]t's far better to have [educators] prepare and respond with some lethal force than to sit back and hope it never happens."
In Utah, there was no debate immediately following the shootings at Columbine or Sandy Hook over whether teachers should be allowed to carry firearms. Since at least 2000, Utahns came to the common sense realization that the first line of defense for innocent students in the event of an active shooter is the classroom teacher.
In fact, just two weeks after the Sandy Hook school shooting, as many as 200 Utah educators signed up to take gun safety courses, many claiming they felt safer knowing guns were so prevalent.
"To stop that threat as soon as it enters that school is the most effective way of saving those children's lives," Thompson asserts.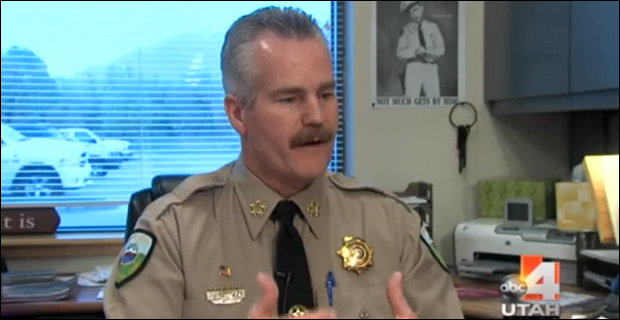 "Frankly, I feel like we're making Weber County Schools the safest schools in Utah," Thompson told KTVX, affirming his oath to the Bill of Rights. In January 2013, his name appeared in a letter from the Utah Sheriffs' Association to President Obama declaring they would not enforce unconstitutional gun laws.
Thompson's class is a seven week course identifying the finer points of gun safety and the skills needed to protect children when seconds count. So far, his efforts have been successful; the course is so popular that there's a waiting list to take the class.
"Our intent is to the best of our ability to help them build the skills, the understanding, the knowledge, the training necessary to protect those kids," says Thompson.
Utah teachers are not required to have firearms, but state law allows for the option if a teacher so desires. In the Weber School District, due north of Salt Lake City, policy dictates that if a teacher is carrying a concealed firearm that the firearm must be kept on the educator at all times. "Policy states guns cannot be out, placed in a purse, or even locked up in a desk to prevent access from students," reports KTVX.
Unlike states like California, Connecticut and New York where guns are being demonized, banned and confiscated, a majority of Utahns agree that school employees should be able to carry firearms in schools. A poll last year showed that 59 percent either strongly or somewhat favored guns for school faculty members.
Our 4th of July Super Sale has been extended! Get double Patriot Points and free shipping on the hottest items!