Daily Beast writer Buzz Bissinger says Piers Morgan should "pop" Alex Jones with a semi-automatic weapon.
Aaron Dykes
Infowars.com
January 8, 2013

CNN and the gun grabbing media are now calling for Alex Jones to be shot the day after his heated appearance with Piers Morgan.
In a segment on Piers Morgan's CNN program, sports columnist for the Daily Beast, Buzz Bissinger, shockingly states:
"I don't care what the justification is that you're allowed in this country to own a semi-automatic weapon – much less a handgun. But what do you need a semi-automatic weapon for? The only reason I think you'd need it is, Piers, challenge Alex Jones to a boxing match, show up with a semi-automatic that you got legally and pop him."
Abby Huntsman (Huffington Post) : "I'd love to see that… [laughter] in uniform."
Piers Morgan: "I'll borrow my brothers uniform."
The other guests laugh and say they'd like to see it. Without a doubt, this amounts to a veiled threat.
Earlier in the episode, another guest expressed hope that Alex Jones' children would not be killed, which Jones' says terrorized his children and family as they watched on from home.
CNN Guest Says Kill Alex Jones! FPS Russian Executed

This call to violence from those demanding gun control is nothing new.
Shortly after the Sandy Hook shooting massacre, advocates for firearms restrictions flooded Twitter and other mediums, demanding the murder of the NRA president and other NRA supporters.
Here are some of those blatant threats, screen captured below: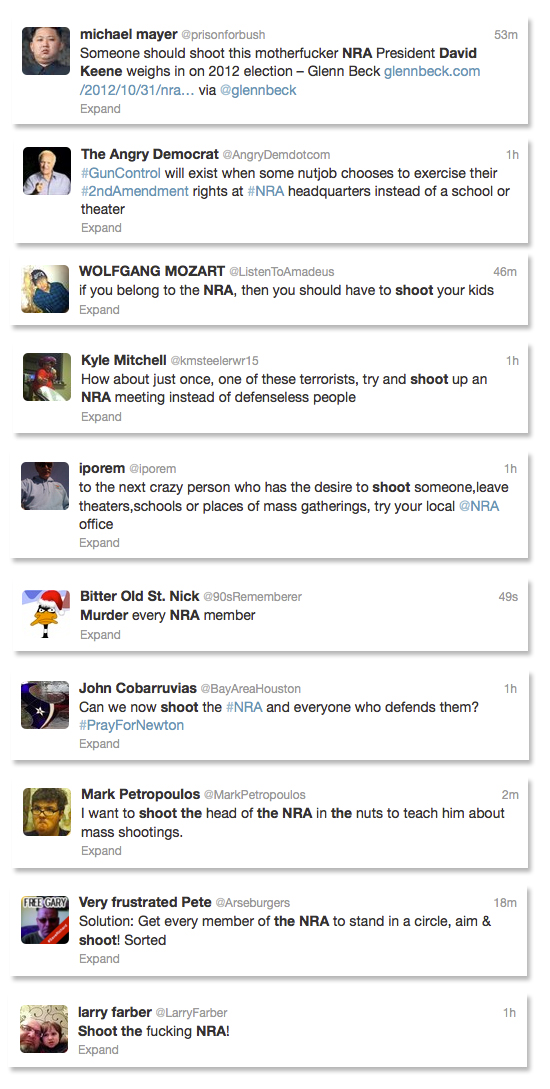 Our Christmas in July sale is now live! Get up to 60% off on our hottest products today!