Infowars.com
November 20, 2012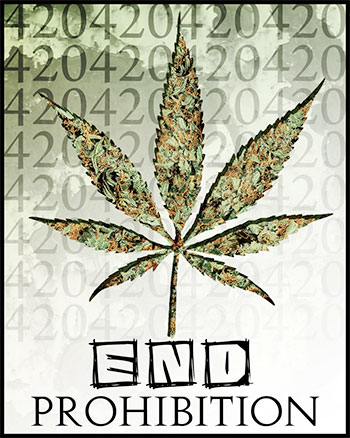 Illustration: Sarah Thomas.
In a move to put an end to the insanity of the War on Drugs, Law Enforcement Against Prohibition (LEAP), an organization consisting of veteran law enforcement professionals, delivered a letter earlier today to U.S. Attorney General Eric Holder at the Department of Justice urging the Obama administration to respect state laws that legalize and regulate marijuana.
The letter was signed by dozens of police, prosecutors, judges and federal agents.
Voters in Colorado and Washington State voted on November 6 overwhelmingly in favor of marijuana legalization. National polls show majority support for replacing marijuana prohibition with legal regulation.
"During his first term, President Obama really disappointed those of us who hoped he might follow through on his campaign pledges to respect state medical marijuana laws," said Neill Franklin, a Baltimore narcotic officer who serves as executive director of Law Enforcement Against Prohibition. "Still, I'm hopeful that in his second term he'll realize the political opportunity that exists to do the right thing. Polls show 80% support for medical marijuana, and in Colorado marijuana legalization got more votes than the president did in this most recent election."
"From a public safety perspective, it's crucial that the Obama administration let Colorado and Washington fully implement the marijuana regulation laws that voters approved on Election Day," added Tony Ryan, a retired 36-year veteran Denver police lieutenant. "There's nothing the federal government can do to force these states to arrest people for marijuana possession, but if it tries and succeeds in stopping the states from regulating and taxing marijuana sales, cartels and gangs will continue to make money selling marijuana to people on the illegal market. Plus, the states won't be able to take in any new tax revenue to fund schools."
Following the letter delivery at the Department of , Franklin and other law enforcement officers held a teleconference to answer questions from journalists.
On November 15, Infowars Nightly News host David Knight interviewed James E. Gierach, the executive vice president of LEAP about the organization's efforts.
The Emergency Election Sale is now live! Get 30% to 60% off our most popular products today!