APD stands by its use of force, while others label the shooting "murder"
Adan Salazar
Infowars.com
March 24, 2014
You can add one more item to the list of things that will potentially get you killed by police: illegal camping.
New Mexico police are standing by their decision to shoot and kill 38-year-old homeless man James M. Boyd, who last Sunday made the ill-fated decision to shack up in the Sandia foothills due east of Albuquerque.
"Boyd was arguing with police for more [than] three hours last Sunday in the foothills after officers went to talk to him about illegally camping in open space," reports KRQE.
But police soon grew weary of attempting to peacefully resolve the issue with the transient, who was approached as he was sleeping, and resorted instead to lobbing a flash-bang grenade, then firing a cascade of bullets as the man turned to escape, dispatching the supposed threat within a matter of seconds.
The Albuquerque Journal picks up the story:
The shots come after a confrontation in which the man, identified as 38-year-old James Boyd, tells police he's going to walk down the mountain with them.

"Don't change up the agreement," Boyd says. "I'm going to try to walk with you."

He tells officers he's not a murderer.

Boyd picks up his belongings and appears ready to walk down toward officers. An officer fires a flash-bang device, which disorients Boyd.

Boyd appears to pull out knives in both hands as an officer with a dog approaches him. He makes a threatening motion toward the officer, then starts to turn around away from police.

That's when shots ring out, and Boyd hits the ground. Blood can be seen on the rocks behind him.
After being rendered motionless, and even though the man can be heard moaning, "Please don't hurt me," and, "I can't move," APD officers proceed to fire beanbag rounds at Boyd, and sic their canine on him before stepping on his hand to make him release two small knives prior to handcuffing him.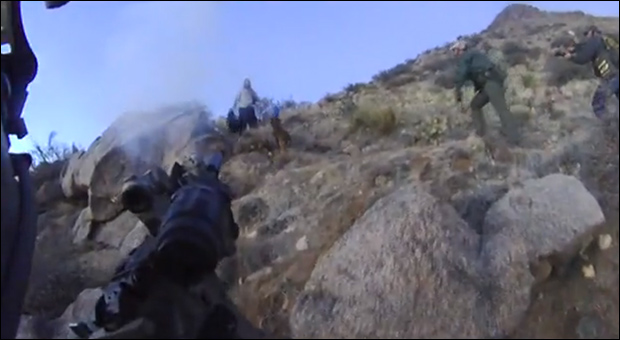 "He died from his wounds in the hospital a day later," reports The Daily Caller.
Police are convinced they were justified in killing Boyd and said they relied on various non-lethal methods before they opened fire with live ammo.
"Do I believe it was justified shooting? Yes, if you follow case law, 'Garner versus Tennessee', there was directed threat to an officer," APD police chief Gordon Eden commented, citing a Supreme Court case which ruled that police can shoot a fleeing suspect who they believe "poses a significant threat of death or serious physical injury to the officer or others."
Meanwhile, APD's release of helmet cam footage of the incident, which they say clearly shows Boyd posed a significant threat, is instead being regarded as a clear indication that the man was murdered in cold blood for a non-violent offense.
"I'm shocked. I've never seen a murder captured on videotape before," attorney Joe Kennedy told KRQE. "This is… I've never seen anything quite like this."
"There was another way to approach this whole situation that didn't have to result in someone dying," Peter Simonson, executive director of the American Civil Liberties Union of New Mexico, said. "We need a trustworthy investigation of incidents like this."
Simonson says Boyd's case should be considered in the Department of Justice investigation of Albuquerque PD for its use of force tactics.
Police are still waiting on a medical investigator to determine Boyd's precise cause of death. In the meantime, the officers who opened fire on Boyd are on leave.
Watch Alex Jones' special report on the out of control militarization of America's police forces.

H/T PoliceStateUSA
The Emergency Election Sale is now live! Get 30% to 60% off our most popular products today!