Former Fed Chairman Volcker Says He Hasn't been to elite meeting for 15 years, yet was pictured at 2010 gathering

Steve Watson
Infowars.com
Aug 9, 2012
Former Chairman of the Federal Reserve under presidents Carter and Reagan, and current Chair of President Obama's Economic Recovery Advisory Board, Paul Volcker, feigned ignorance when asked recently about his regular attendance at the elite annual Bilderberg meeting.
Volcker was attending a public event when Infowars journalist Luke Rudkowski, founder of the activist group We Are Change, asked the economic guru about his presence at recent Bilderberg shindigs.
"What Bilderberg meeting?" Volcker replied when Rudkowski asked him what discussions had taken place.
"I do not think I have been at a Bilderberg meeting for twenty years." Volcker added.
"You're name is on the attendees list and this is the institution that sets American policy." Rudkowski fired back.
"My name may be on an attendees list, but I do not remember the last time I have been there." Volcker replied.
Though Rudkowski cites 1997 as the last time Volcker attended, his name, in fact, appeared on both the 2009 and 2010 attendees lists. Volcker is even listed on the official Bilderberg steering committee website as having attended in 2010, the first year the attendees list had ever been officially released by the group itself.
Volcker was even pictured (below) at the 2010 meeting in Sitges, Spain. The photograph was published on the London Guardian website.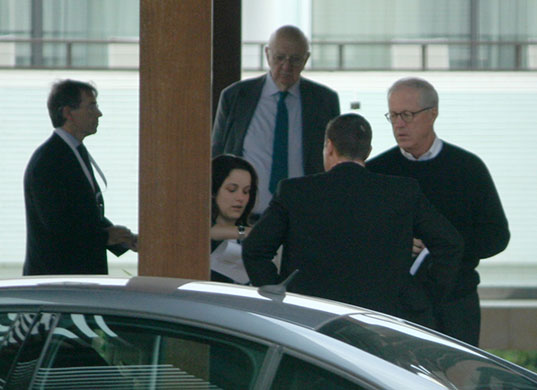 Continuing his line of questioning, Rudkowski noted "many key players say that this is the institution that engineered this economic crisis.."
"Maybe that's why I havn't gone there for ten years." Volcker replied, suddenly halving his previous estimate of how long he has not attended the meeting for.
As he was leaving the event, Rudkowski was again able to speak to Volcker. During the exchange the former Fed head said "I've been so insulted that they (Bilderberg) have not invited me there for fifteen years," again altering the year count.
As he entered the elevator to depart and Rudkowski continued his questions, Volcker said "I'm a member of the Trilateral commission, that is correct. I am a member of the Federal Reserve, which is the most insidious one."
Watch the exchange below:
We Are Change previously confronted Volcker in 2009 over his Bilderberg attendance.
In that video, Volcker not only acknowledged that he attended their meeting that year, and two or three times previously, he also acknowledged the authority of the Logan Act, which prohibits unauthorized U.S. citizens from negotiating with foreign governments, punishable under federal law with imprisonment up to three years.
Volcker implied that because the Federal Reserve is a non-governmental private institution, it's officials are not beholden to the Logan Act. However, given that Volcker is also part of Obama's economic advisory, team that point is moot in his case, and he would be liable for punishment.
Watch the 2009 exchange with Volcker below:
Why can't Paul Volcker remember that he was at the Bilderberg meeting twice in the last three years? Is Volcker senile? If so what is he doing heading up Obama's Economic Recovery Advisory and sitting on the board of the Fed? Or is he just a liar? What do you think?
Detractors argue that Bilderberg does not set US economic policy, and may point out that Volcker is no longer head of the Federal Reserve and only acts in an advisory capacity. That argument falls flat on its face when you consider video shot by protesters of the current Fed Chairman Ben Bernanke leaving the meeting in 2008, weeks before the collapse of Lehman Brothers, the sparking point for the current economic crisis. Bernanke later refused to talk about his attendance at the meeting when directly questioned.
Before the crisis hit in September 2008, a mole inside Bilderberg warned that as part of the 2008 meeting, the Bilderberg group agreed that certain key institutions should be allowed to fail, while others should not.
In 2006, sources inside Bilderberg leaked information that indicated the group was fully aware of an impending housing bubble, and the catastrophic effects it would have. Even mainstream media and cultural sources have concluded that the housing bubble was created, for the most part, artificially and deliberately by elite manipulation of Federal Reserve and investment banking policy. Essentially, the economy was crashed deliberately as part of a program of consolidation of wealth by the extremely rich and powerful.
—————————————————————-
Steve Watson is the London based writer and editor for Alex Jones' Infowars.com, and Prisonplanet.com. He has a Masters Degree in International Relations from the School of Politics at The University of Nottingham in England.
Take advantage of one of nature's most hardworking nutrients with Vasobeet now at 60% off!