Videos and photos out of Mexico show the destruction wrought by a 7.1 magnitude earthquake Tuesday.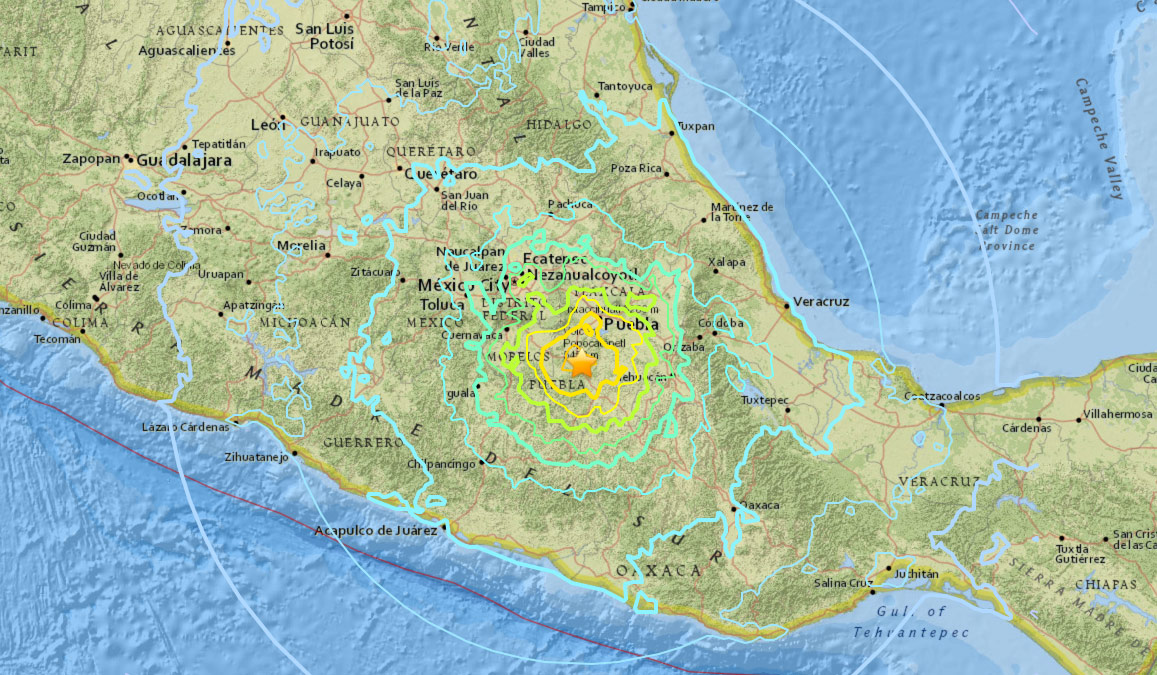 The earthquake struck the town of Puebla, 76 miles southeast of the nation's capital Mexico City on the 32nd anniversary of a quake which struck the region in 1985 killing 10,000.
🇲🇽 WHOA! Watch this building rock back and forth as the earthquake strikes Mexico City. (Images: @AlertaChiapas) pic.twitter.com/SS2xiiJvYJ

— Keith Walker (@KeithWalkerNews) September 19, 2017
Images depict structures shaking and entire sections of buildings crumbling, while others show Mexicans struggling to clear debris and rescue people trapped under rubble.
BREAKING VIDEO: Moment parts of building collapse during #Mexico #earthquake https://t.co/2HvlyFrn2x
pic.twitter.com/jQCDCb4UHp #sismo #quake

— RT (@RT_com) September 19, 2017
Witness video shows buildings collapsed in the Mexico City region after powerful earthquake, damage assessment underway pic.twitter.com/abLzcPqpWG

— Breaking911 (@Breaking911) September 19, 2017
BREAKING NEWS: ANOTHER HORRIBLE VIDEO OF MEXICO CITY FOLLOWING M 7.1 EARTHQUAKE. FEARS OF MULTIPLE CASULTIES. pic.twitter.com/Ql5jUyLDQX

— BNL NEWS (@BreakingNLive) September 19, 2017
@DrLucyJones This is the moment the Earthquake Alarm System went off in Mexico City 7.1 mag. When will California EEW be fully implemented? pic.twitter.com/uS69TpAG7s

— Ben (@FreedomSocietyX) September 19, 2017
RT via LastQuake RT conecora1: 7.1 earthquake footage from tourist attraction Xochimilco in Mexico City pic.twitter.com/ZNtNFtCnPp

— Jason Bechler (@jasonbechler) September 19, 2017
BLAST recorded on cam as #quake rocks #Mexico (VIDEO) https://t.co/t0guWdWSkY pic.twitter.com/pxoJg4tSPX #sismo #earthquake

— 🇺🇸Patriot 24/7🇺🇸 (@TrumpTrain45Pac) September 19, 2017
A 7.1 magnitude #earthquake hit #Mexico Tuesday afternoon, striking about 70 miles southeast of the national capital in #MexicoCity. pic.twitter.com/M2uCyXOBGp

— Aldo Giammusso ⚽️ (@AldoGiammusso) September 19, 2017
Mexico City, few minutes ago…omg pic.twitter.com/3tEqS1ce2G

— jledezma (@Ppledezma) September 19, 2017
El terremoto en la redacción de "Milenio" en Ciudad de México pic.twitter.com/e7IX2lh5jD

— SalvadorSchwartzmann (@S_Schwartzmann) September 19, 2017
The BBC reports "several deaths" were reported following the massive quake.
WATCH: Video shows shaking lights and restaurant tables in Mexico City as 7.1 magnitude earthquake hit the area

(Via rramos1032/IG) pic.twitter.com/VEZiCRN0N7

— NBC News (@NBCNews) September 19, 2017
#BREAKING: Here was the scene from inside a building during the earthquake in Mexico City. pic.twitter.com/vzCgt12InV

— BreakingNNow (@BreakingNNow) September 19, 2017
Desalojan Yucatán en Condesa #CDMX pic.twitter.com/P48QzXEfXI

— Paco Villagrana (@PacoVillagrana) September 19, 2017
Amigos por favor compartan. Hay muchas zonas afectadas que necesitan ayuda. #tenemossismo
pic.twitter.com/o57Fr7hZB4

— Carlos (@hypervoila) September 19, 2017
An 8.1 magnitude earthquake earlier this month left around 90 dead.
Get what you and your family need with today's top-selling products now!