RT
January 22, 2014
Riot police brutally dispersed radical protesters from central Kiev in the largest operation since the latest outbreak of violence. Almost 200 officers have been injured over four days of scuffles. Two people were reportedly killed amid the crisis.
Read RT's live updates from Ukraine.
The police cleared Grushchevskovo Street, the scene of intensive confrontation with radical anti-government activists in the vicinity of the Ukrainian parliament building. They proceeded to the neighboring European Square, where opposition activists have been camping for weeks.
Radical activists tried to stop police advance with a tried tactic of tossing stones and petrol bombs at them. However they were overpowered by security forces.
Ukrainian authorities have lifted a ban on the use of water cannons when the temperature is below zero.
"Water cannons are being used by police to prevent mass disorders and violations, to repulse attacks on buildings and means of transport, regardless of their affiliation, to protect civilians and for self-defense," reads the amended decree.
Police have also been permitted to use smoke, tear gas and stun grenades. Law-enforcement bodies have received permission to restrict the movement of vehicles as well as temporarily prevent citizens' access to particular areas in the city.
Retreating activists set alight what appears to be a heap of tires in the center of European Square.
The crackdown was launched on mid-day and followed a smaller police action in the morning in Grushchevskovo Street, in which they dismantled a protester barricade and retreated back to initial positions. A similar hit-and-retreat was performed the previous day.
The police advances probably came as no surprise. Earlier on Tuesday Ukrainian Prime Minister Nikolay Azarov warned that the authorities would use "force, as prescribed by the law," unless "the provocateurs stop."
The escalation of violence on Wednesday comes on the fourth day of confrontation between riot police and radical activists. Previously, police were mostly holding their ground and preventing the protesters from storming governmental buildings.
According to latest casualty reports from the Interior Ministry, 195 officers have been injured during the entire period of scuffles, including 84, who had to be admitted to hospitals. There were no immediate accurate reports about the number of injured among the opposition.
The crackdown on the opposition comes after two deaths were confirmed among their ranks overnight. Both of the victims suffered fatal traumatic wounds, according to Kiev's chief doctor, Vitaly Mokhorev. Their bodies were brought to a volunteer medical post in Khrushchevskovo Street.
Medics have extracted the bullets from the bodies of the two dead men. It has been established that one of the victims was killed by a shot from a Degtyarev sniper rifle with a 7.62 mm caliber bullet. The second man was mortally wounded by a 9 mm bullet, apparently from a Makarov pistol, local espreso.tv said.
Police stressed that whoever shot the man, it was not one of their officers.
"Law enforcement do not carry firearms there," spokesman Sergey Burlakov said.
The deaths have been confirmed by the General Prosecutor's office.
Rumors on the internet alleged that one of the victims was killed by a sniper, but there was no evidence provided to substantiate this assertion.
The man was identified as Sergey Nigoyan, an Armenian national from Dnepropetrovsk, RT's Alexey Yaroshevsky reported from Kiev. Ironically, Dnepropetrovsk is a large industrial city in the east of Ukraine, which is considered pro-government and Euro-skeptical.
There were also reports of another victim among the protesters, a 22-year-old, who was said to have died in hospital after falling from a 13-meter-high colonnade in front of Dynamo Stadium. However, doctors denied this information later on Wednesday, according to the RIA Novosti news agency, citing espreso.tv. The radical activists used the vantage point in Grushchevskovo Street to bombard riot police with petrol bombs and stones.
The reports of this death apparently were false, since Mohorev said the only patient admitted after a fall in Kiev Hospital is recovering from hematomas. The life of the patient is not in danger, and he insists that he fell from a rooftop while trying to fix a TV antenna, the official said.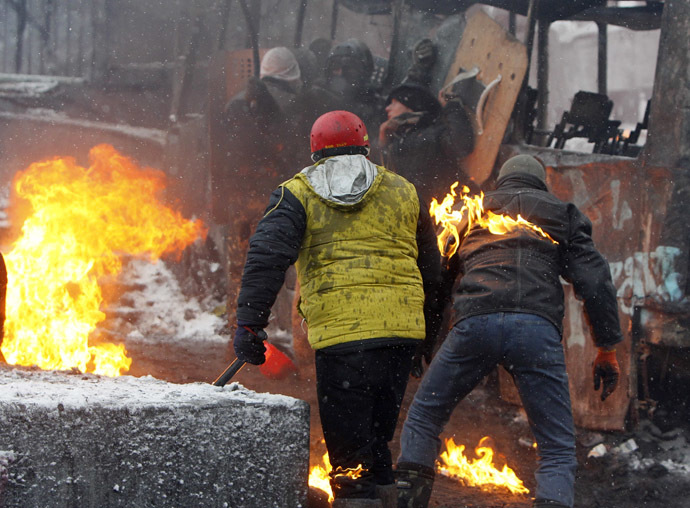 Foreign diplomats 'should convince opposition to hand over extremists'
Kiev is continuing its diplomatic effort to deflect criticism from foreign governments and international organizations over Ukraine's handling of the political crisis. The latest of such statements came on Tuesday from UN High Commissioner for Human Rights Navi Pillay, who blasted the new laws in Ukraine which triggered the new round of violence as a dramatic step away from democracy.
"Such provisions will roll back the enjoyment of human rights for the people of Ukraine, stifle debate and dissent, and jeopardize the democratic achievements of the past two decades," she said in a statement.
Ukrainian government on Wednesday tried to convince foreign diplomats stationed in Kiev that their support of the opposition forces is only aggravating the situation.
"We are deeply concerned with the visits of representatives of foreign diplomatic missions of the seized administrative buildings," Justice Minister Elena Lukash told the ambassadors.
She alleged that "militants are cooking incendiaries" in those buildings and called on the foreign nations to condemn extremism and violence on the part of the rioters.
The minister stressed that Ukrainian police have been remarkably restrained in their reaction to the mass disturbances.
"Judging by the experience of UN nations responding to attempts to organize rioting in your countries, one can say with certainty that no European country, let alone the United States, has shown more tolerance than Ukraine did," she said.
Deputy Interior Minister Viktor Ratushnyak called on foreign diplomats, who have contacts with the opposition, to convince them to turn over those among their ranks, who have been involved in crimes.
"We have on many occasions told representatives of the opposition, requested them to hand over those militants to police, but they ignored our calls," he said.
Police confrontations with radical protesters in Kiev have entered their fourth day on Wednesday. The rioters, many of them radical nationalists, say they are engaged in public disturbance in rightful opposition to dictatorial coup on the part of the government.
They also reject the leadership of moderate opposition figures, who had called on their supporters to remain peaceful and not engage in the rioting.
The government called on the moderate opposition to join forces to stop the violence, but so far the effort has brought no tangible results.
Editor's note: Below are more pictures of the Ukranian protests via Twitter.
PHOTO: Surreal scene from today's #Kiev riots. Follow LIVE UPDATES http://t.co/O42IFflQVn pic.twitter.com/r98Twb2jYP

— RT (@RT_com) January 22, 2014
#Kiev is burning. Right now. LiveStream: http://t.co/oKgpAB8kRN pic.twitter.com/Dn1L9XJUI0

— Jim Roberts (@nycjim) January 22, 2014
Outrage, stop the madness now! #Kiev #ukraine #eupol #news #media #euromaidan #ЄвроМайдан #украина pic.twitter.com/cRnKcbFCKz

— espressino (@ulvdis) January 22, 2014
The Reopen America Back to School Special is now live! Save up to 60% on our most popular items!