Captured "attractive" females changing clothing and urinating
Adan Salazar
Infowars.com
August 23, 2013
The City of Puyallup, Washington is facing a lawsuit claiming members of its police department were spying on inmates picked up on DUI charges through hidden surveillance cameras set up in restrooms and jail cells where "apparently young, attractive women" were forced to change clothing, including underwear.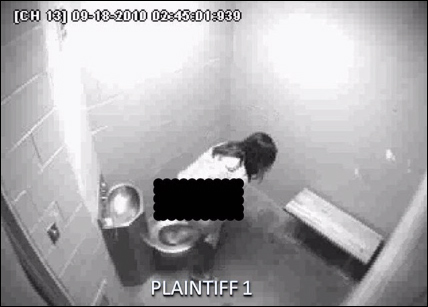 Seattle attorney James Egan filed the lawsuit Thursday, according to KIRO 7 news. "He said it appears attractive women were being video recorded more than others."
"I have defended thousands of DUI cases over years and I have never — I mean never — come across anything like this," Egan told the Seattle Times.
Egan has been collecting evidence against the Puyallup PD's unethical surveillance tactics over the past two and a half years after he began noticing "a pattern and practice for DUI detainees…where apparently young, attractive women were subject to observation relieving themselves in toilets, and/or were also directed to change all clothes, to include bras and panties, in monitored cells where hidden cameras recorded them doing so."
The complaint alleges that "Because the officers apparently want all identification photos to be in jail issued clothing," which is not a state requirement, "the officers tend to direct people to change into the jail-issue clothes for the photo, and then change back into street clothes for release."
According to the lawsuit, only one plaintiff, J.H., actually witnessed the small camera which immediately made her feel "extremely uncomfortable about having to take my shirt off." She says afterward, "One of the officers made the comment 'She's a squatter' referring to how I used the restroom while in the cell."
Another plaintiff, S.C., said that after she changed clothes, officers were talking to her in a more sexualized manner. "…after I got back into my clothes I remember them talking to me in a sexual manner something to the effect of: 'You have a nice body' and 'you don't look your age' and 'I love red heads.' …This is like a porn video they were watching." She said to her knowledge there were no signs warning that the holding cell or toilet room were being video recorded.
(Article continues on next page.)