A video recently posted by a Mexican radio station shows a how easily cartel smugglers can get drugs across the southern border.
The video, published by Mexican radio outlet Borderlinea.com.mx, shows two smugglers carrying large bundles scaling the large border wall with relative ease, showing just how untrue Democrat leaders' continued claims that "the border is secure" really is.
Breitbart Texas confirmed with law enforcement officials that the video was taken just south of Nogales, Arizona, and suggested that the bundles likely contain marijuana.
The footage is yet another reminder of the inadequate number of Border Patrol agents who simply cannot cover enough of the area to be effective in stemming the tide of illegal crossings.
Perhaps most troubling is that this section is one of the more "fortified" segments of the fence in the region. Both east and west the fence becomes significantly smaller (as low as three feet), as Breitbart highlights with this image from the area: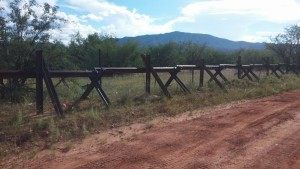 As TruthRevolt reported last week, according to law enforcement authorities in Arizona, Mexican drug cartels have scout locations as far as seventy miles inside U.S. territory.
As for stunning claims like Harry Reid's that the "border is secure," last year saw an unprecedented influx of illegal aliens, particularly unaccompanied minors, resulting in a "humanitarian crisis" that overloaded immigration authorities and a massive relocations of immigrant minors into communities all over the country.
The Emergency Election Sale is now live! Get 30% to 60% off our most popular products today!