WeAreChange Edmonton
wearechange.org
August 8, 2010
The video below features WeAreChange Edmonton taking action and informing the public about poison in the water.
Click the image below to get a high-resolution printable copy of the notice.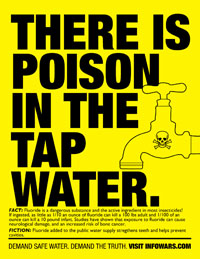 Fresh food that lasts from eFoods Direct
Alex Jones is launching a new campaign to inform the public about the toxic chemical fluoride being added to tap water across the country. While EPA scientists and workers are calling for an end to water fluoridation, the government is doing everything in its power to continue and even increase the amount of toxic chemicals being added to public water supplies.
{openx:49}