Prometheus Unchained
Planet Infowars
November 9, 2012
When given a choice between two poisons, the best choice is none of the above. However, if the choice is between a fast-acting poison or a slow-acting poison, and no third choice is allowed, then it is best to go with the quicker poison so that it will be over that much sooner. Obviously Obama is the fast-kill poison and for those of us who value Freedom, Liberty, Truth, and Justice, the fast-kill poison is the most beneficial for us.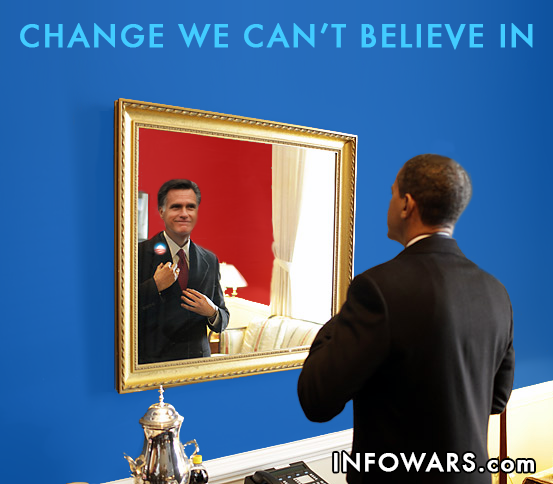 How? If Romney were to [have won], then the Sheeple who have been awakening under Obama's Tyrannical Regime would have gone back to sleep, comfortable in their slumber as they feel that the problem has been solved. It would not have solved anything, simply drawn out the collapse into something long, agonizing, and even more painful. An Obama victory means that the Crazy Train will run full-out from now until the end of his term. It means that the Police State will expand and try to infiltrate every aspect of our lives rather than just what we are aware of now. It also means that individuals who are waking up will remain awake as subtlety is unknown in President Obama's Lexicon.
Excuse me? Obama will actually Help the Freedom Movement? You bet. Nothing will awaken the Sheeple as they take step after step towards the slaughterhouse like the shrieking of the slaughterhouse. Even the dullest amongst the cattle are able to recognize Death when they see it. It is an aspect of Life to recognize the absence of Life, and Obama's tactics, policies, and directives all reek of Death.
Obama has the taste of victory in his mouth, the heady feeling of unending power, and he can only accelerate the Great Culling now. The rush of power and the conviction that he is correct will only encourage him to push about the full weight of his so-called power. The TSA will spread like syphilis in a Roman Orgy, the Surveillance Infrastructure will expand like bunnies on viagra, and the Police State with its sheer brutality and lack of intelligence will grow and become even more heavy-handed and abusive.
People have started to wake up because of the actions of Obama. Now that Obama is back for another Four years and is no longer handcuffed to Popular Opinion let alone re-election…what could possibly keep him from tightening his grip on the American People? The man is a fascist in socialist clothing, an Authoritarian prancing about as a Progressive Ponce, he is a Man with a insatiable desire for Power. Men like him only understand the acquisition, growth, and execution of power. When the power-hungry attain great power they are unable to do anything but use that power against the weak. We have let a schoolyard Bully gain access to the Highest Institution of power, again, and we can expect him to do everything that he did in his first term, again, only this time without restraint.
Read the rest of user Prometheus Unchained's article at the Planet Infowars social network.
The Emergency Election Sale is now live! Get 30% to 60% off our most popular products today!