Alex Hern
The Guardian
November 9, 2013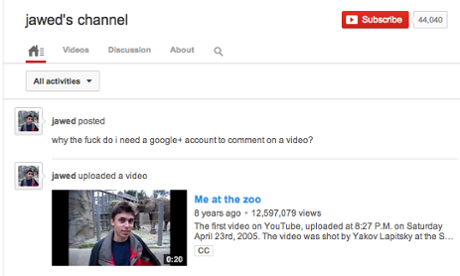 After an eight-year silence, YouTube's co-founder Jawed Karim has made his second-ever post on the site – to fuel the controversy over Google's changes to its comments system.
On April 23rd 2005, Karim uploaded YouTube's first video, of himself at the zoo. Then he went silent until, eight years later, he posted a question on his channel:
why the fuck do i need a google+ account to comment on a video?
Google's overhaul of YouTube comments has sparked controversy: the YouTube video announcing the change has nearly 30,000 comments, many including harsh criticism of the move through the medium of ASCII art.
RELATED: Desperate MSM Moves to Kill Off Article Comments
The Emergency Election Sale is now live! Get 30% to 60% off our most popular products today!